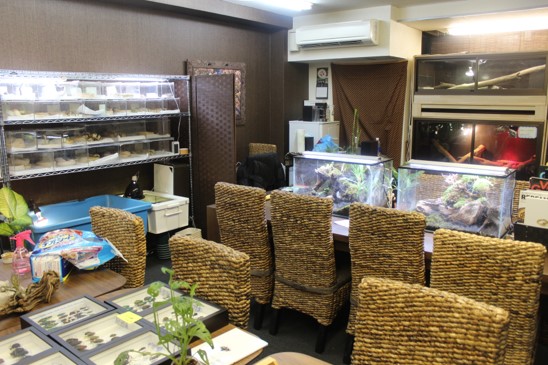 Tasting a cup of tea in the Asian-themed space. If you look around, there are stacks of breeding cages covering the entire wall and somehow you feel a set of eyes on you. Going close to them, you will feel that the reptiles are welcoming you.
These days, animal cafés where you can have a coffee break with animals have gotten popular in Japan. Among them, reptile cafés in particular have secretly been garnering attention.
This time, the writers of Mita Campus visited a reptile café called "Reptiles Café RAPUTORU". It is in the corner of a building away from the bustle of the lively town, in the Kabukityo area of Shinjuku. Inside of the café, over 100 species of reptiles welcome you. There are snakes, lizards, giant tortoises, and tarantulas and millipedes, which are rare to see in Japan. And in this café, you can enjoy time them in various ways. For example, you can put a snake around your neck, a small lizard in your hand, or feel the sensation of the iguanas' skin.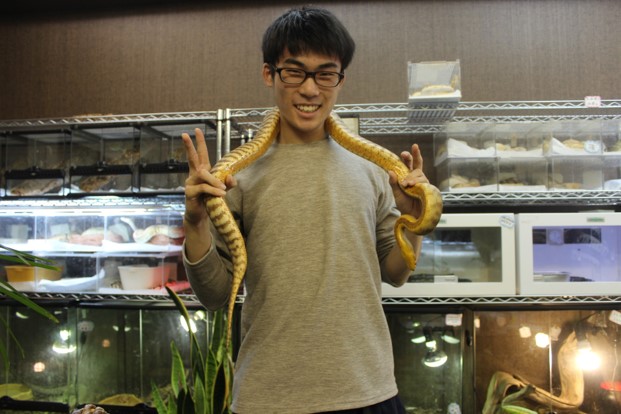 People visit the café for many reasons. Some people who have just started to have reptiles in home, those who want to see rare species nearby, and those who want to make up for not being able to have their own.
This café started in the first place because the owner is an avid reptile-lover who wanted to show his room openly. He hopes this café doesn't just attract lovers of reptiles but also people who don't necessarily have an interest in them.
"I think what makes reptiles cute is "tsundere" (someone who usually acts distant but sometimes shows affection). I think it is harder to have reptiles than other animals but that's why they are so cute." A waiter, Morimoto-san, told us about the attraction of reptiles enthusiastically. She is also a lover of reptiles who has over 30 in her own home. We could tell she dedicated her life to them through the fact that the temperature of her room is kept at 28℃, which is comfortable for reptiles throughout the year, and through the fact that her hands were covered all over with cuts and bruises by the claws of lizards.
In the future, they are planning to revitalize the café more and more by increasing reptiles which the visitors can touch and by starting to sell feed and breeding tools. In the meantime, they are trying to expand the "reptiles circle (community for reptile lovers)" by holding exchange meetings.
The service of kind staff like Morimoto-san and interactions with reptiles will create a new value for customers. We'd recommend experiencing this café for yourself.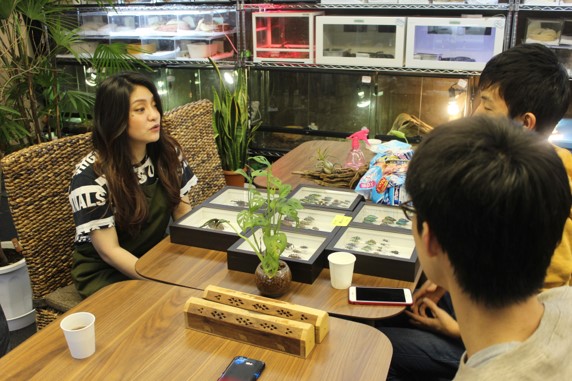 Written by Yutaroh Kumagai
Kosuke Nakano
Daisuke Ito
Edited by Ryoko Shibata
~~~~~~~~~~~~~~~~~~~~~~
「爬虫類カフェに行ってみた!」
アジアンテイストな空間で飲む一杯のお茶。周りを見渡すと、壁全面に飼育カゴが敷き詰められており、どことなく視線を感じる。近づいてみると、そう、爬虫類のお出ましだ。
今日、動物とのふれあいを楽しめる"アニマルカフェ"が人気を博している。そんな中で、密かに注目を集めているのが"爬虫類"カフェだ。
「爬虫類カフェ らぷとる」。新宿歌舞伎町の喧騒から少し離れたビルの一角に店を構えている。店内では、100種類を超える色とりどりのヘビ・トカゲ、甲羅の上に乗ることのできるゾウガメ、さらにはタランチュラやヤスデなどなかなかお目にかかることのできない珍しい動物たちが出迎えてくれる。ヘビを首に巻いたり、トカゲを手のひらに乗せて遊ばせたり、イグアナの皮膚の感触を確かめたりと楽しみ方は様々だ。
爬虫類を飼い初めたばかりの人や、レアな個体を間近に見たい人、家で買うことができないためカフェに来てその気持ちを埋め合わせようとする人。このカフェを訪れる人は多様である。
そもそも、このカフェは、爬虫類愛好家であるオーナーが自身の飼育部屋をカフェという形で開放したことから始まった。このカフェが爬虫類愛好家たちの交流の場としてだけでなく、爬虫類に興味のなかった人にもその魅力を間近に感じてもらう場所になってほしい、とオーナーは願っているようだ。
「爬虫類はツンデレなところがかわいいんです。他のペットよりも飼育が大変な分、時折見せる"デレ"が格別なんです。」店員の森本さんは声を弾ませながら爬虫類の魅力を語ってくれた。森本さんは自宅でも30匹以上の爬虫類を飼育している爬虫類愛好家である。一年中、室温を彼らにとって適温である28℃にしているというエピソードやトカゲの爪で傷だらけの腕からも彼女の爬虫類への愛がひしひしと伝わってきた。
今後は、ふれあいできる個体を増やしたり、エサや飼育道具の販売を行ったりすることでこのカフェをますます活性化していく予定だという。それと同時に、爬虫類に興味のある人同士の交流イベントを積極的に行って、"爬虫類の輪"を広げていきたいという。
親切な接客や爬虫類とのふれあいが新しい価値観を生み出すかもしれない。ぜひ、実際に足を運んで体験してほしい。