In a small and brightly lit room of a building in Shinjuku—one of the largest cities in Tokyo—time passes slowly, away from the bustle of the big city. About 12 owls, both large and small, are perched quietly on their branches.
This time, the writers of Mita Campus visited an owl café called Mohumohu. Although this is technically a café, the majority of the customers' time is spent with the owls, and so the drinks are served in plastic bottles. The owls can perch on your hand, arm, or head, and you can take pictures with them as well. With an additional cost, you may be able to feed them baby chicks (It depends on when you visit though). If you truly want to feel the sensation of "mohumohu"—which means "fluffy" in Japanese—try touching an owl's head with your hand, and you'll understand.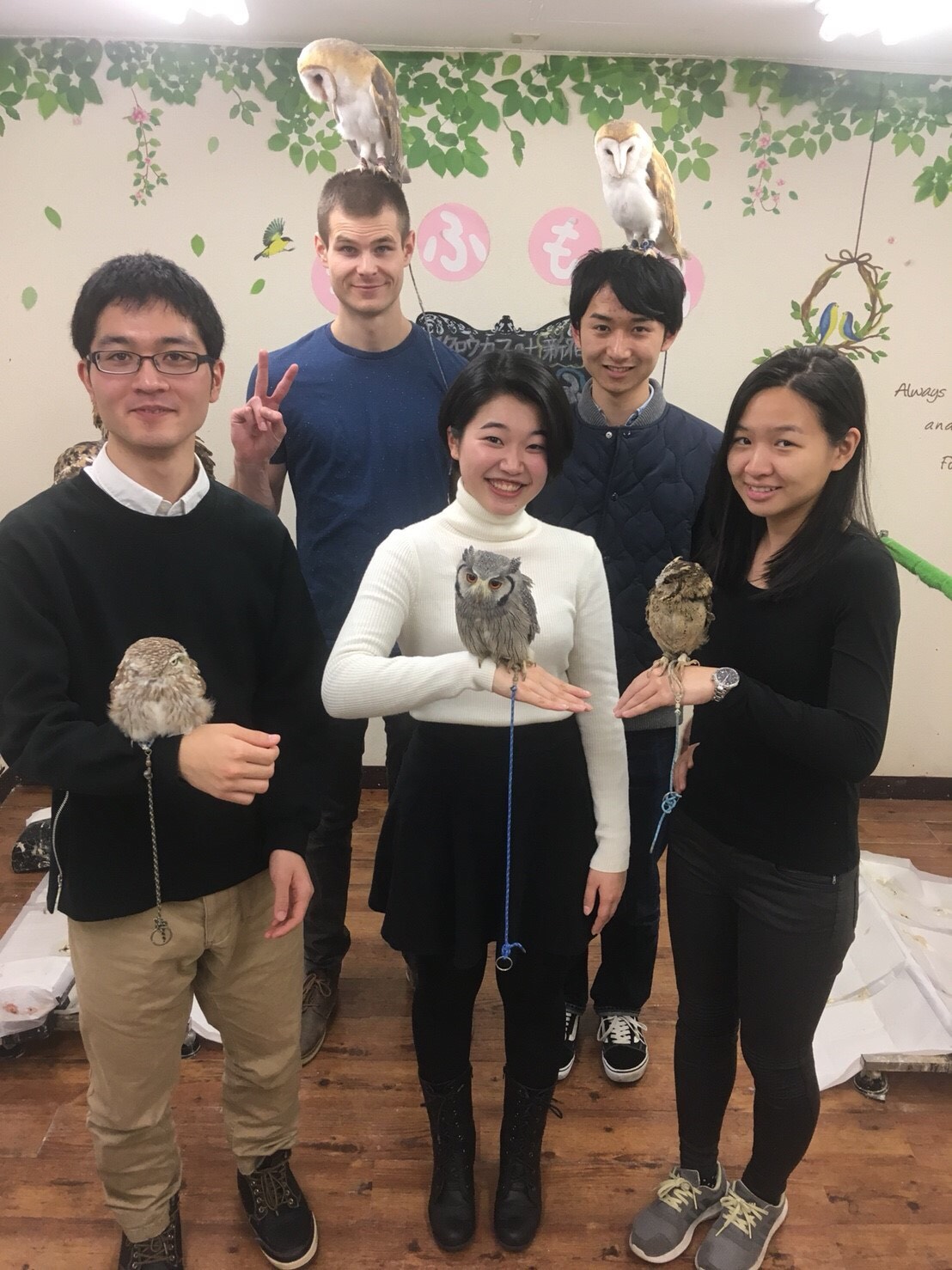 The café itself started in Shinjuku two years ago, and it has continued to operate since. However, prior to this, it had been located in Ikebukuro. Thanks to attention from overseas bloggers, the business in Ikebukuro boomed to the point where there were times when it was impossible to make a reservation for a whole month. However, to allow the owls to live in a quiet space, the café relocated to Shinjuku.
To prevent the delicate owls from getting stressed, the café has a reservation system and customers must disinfect before touching the owls. When you are spending time with the owl on your arm, you might also find some that have one eye closed and the other open. Customers might think that the owls are winking at them, but it's actually called "hemisphere sleep", which is a special characteristic of owls and dolphins; closing one eye makes half of the brain rest.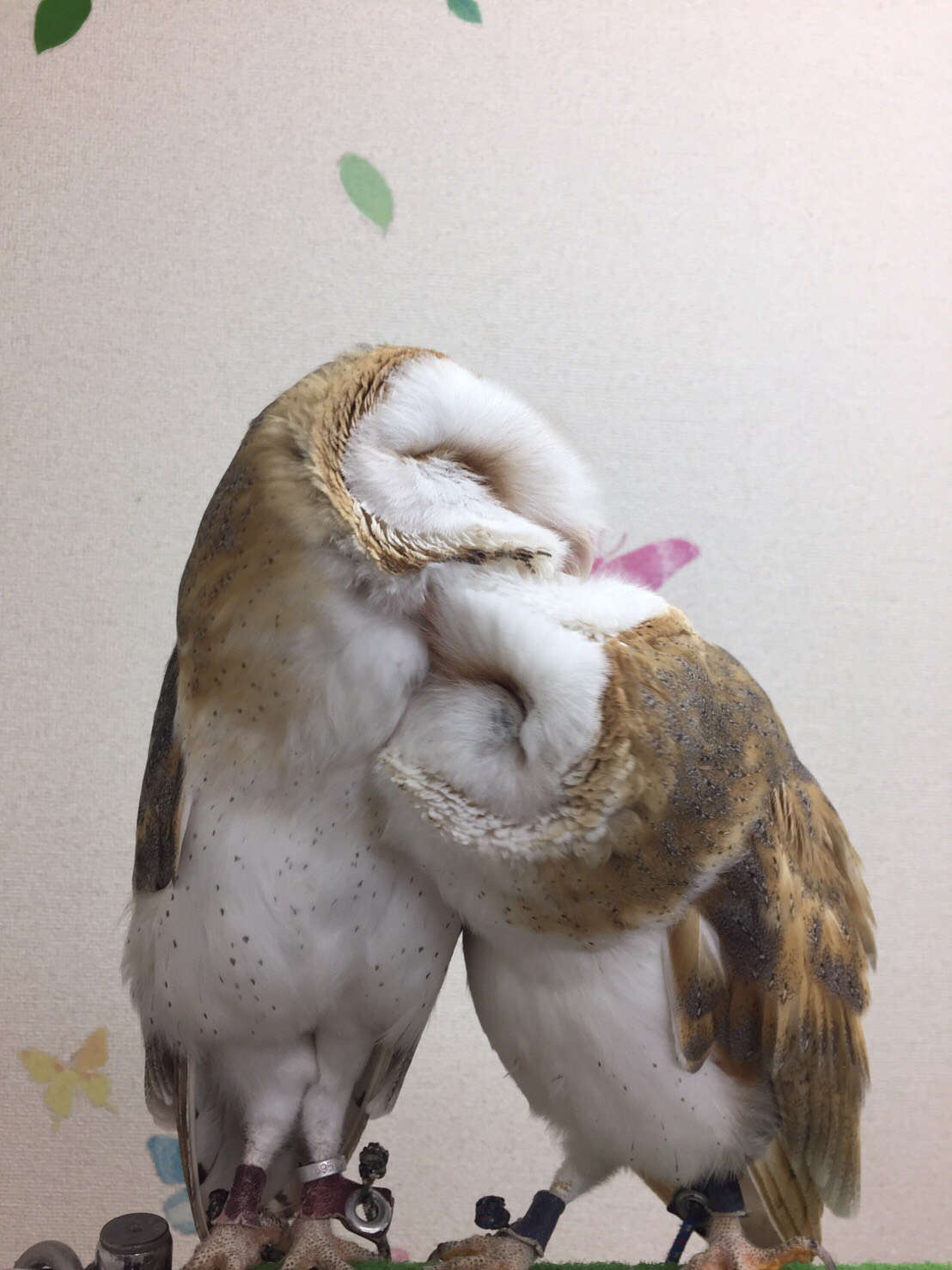 When spending time with uncommon animals like owls, you may unconsciously forget the passing of time. Cafés overseas often have a role as a space for work, but there are many people in Japan who use cafés as a resting place. Animal cafés in particular have been on the rise and people of a wide age range often come to the cafés for relaxation. It is likely that other animal cafés may appear in the future.
Written by  Takeru Suzuki
Takayoshi Kawahara
Minori Tachibana
Edited by  Ryoko Shibata
~~~~~~~~~~~~~~~~~~~~~~~~~~~~~~~~~~
「フクロウカフェに行ってみた!」
日本有数の大都会として知られる新宿。そこにあるビルの一室には都会の喧騒を忘れさせてくれるようなとてもゆったりとした時間が流れていた。大小様々の十二羽くらいのフクロウが止まり木の上におとなしく座っているのである。
今回私たちが訪れたのはフクロウカフェ もふもふ(owl café mohumohu)。カフェではあるが、ここでのメインはフクロウとの触れ合いであり、飲み物はペットボトルで提供される。このカフェではフクロウを手や腕、そして頭に乗せたり、一緒に写真を撮ったりすることができる。時間帯にもよるが、料金を追加すれば餌やり(ヒヨコなど)体験もすることができるそうだ。"もふもふ"と名付けた理由はフクロウの頭を小指の背で優しく撫でるように触れると分かる感触を意味している。
およそ二年前にここ新宿で新たに始めたお店。だが、その前にも池袋で経営を行っていた。海外のブロガーのおかげもあってか、池袋での経営はとても繁盛し、時には一カ月待ちの時もあったという。けれどもフクロウのために静かな空間を求めて今の新宿に拠点を移したのである。このカフェでは予約・定員制で、フクロウに触れる前には消毒をしたりと、繊細な彼らに極力ストレスをかけないように心掛けられている。
腕や頭にフクロウを乗せたりして時間を過ごしていると、時たま片目を閉じてウインクしているような仕草をフクロウが見せてくれる。お客はこの動作に嬉しがるそうだが、本当は"半球睡眠"というフクロウやイルカ特有の行動をしているだけなのだ。つまりウインクしているのではなくて、片方の目を閉じて、半分の脳は寝ているのである。
普段なかなか目にすることのできないフクロウと触れ合っていると、つい時間を忘れてしまう。海外のカフェは"作業場"としての役割が大きいかもしれないが、日本のカフェは友人と話したり休憩を目的とした客が多い。とりわけ日本のこうした動物と触れ合うことのできるカフェは近年増えてきており、幅広い年齢層が癒しを求めてやってくるそうだ。今後もまた違った動物と触れ合えるカフェが出てくることだろう。