To the north of Mount Fuji is Yamanashi prefecture, famous for a military general named Takeda Shingen and its fruit production of table grapes, peaches, plums, cherries, persimmons, apples, apricots, and so on. This area is also the cradle of Japanese viticulture, with its famed Japanese wine, the Koshu wine.
The Koshu grape is thought to have arrived in Japan through China by the Silk Road more than a thousand years ago. Although it came to Japan so long ago, its exploitation began only very late in 1877, when two young emissaries from the Yamanashi region decided to go to France for two years in order to learn how to make wine. However, the wine production really began in the 20th century with the creation of several wineries, such as the Grace Winery, founded in 1923. Today the Koshu region has more than 80 wineries.
The production of wine in the Yamanashi region remains family-owned. The current president of Grace Winery, Shigekazu Misawa, is the fourth generation of the Misawa family to work on the winery. His daughter, Ayana Misawa, is now responsible for the production of wine; she also studied the art of winemaking and oenology in France. "Making wine is quite simple; the difference is in the quality of the grapes, which is why we do our best to respect the grapes and grow them as naturally as possible," she says. In fact, in Japan, Japanese wine is not yet well recognized and is competing with foreign wines, which are often cheaper but have variable quality. "That is why we focus on a very good quality of wine," adds Ms. Misawa.
The Grace Winery produces about 20,000 bottles a year, which is a medium size production for a Japanese farm and is small compared to other wine producing countries, but the boom in Koshu is just beginning. "We sell 15% of our wine to about 20 countries, but we are trying to increase our export share," relates Ms. Misawa. To achieve this, Grace Winery participates in prestigious international competitions with world-renowned oenologists, which they have won in the past. In addition, some producers in the Yamanashi region have created a collaborative association, Koshu of Japan (KOJ), to promote their Koshu wine and thus have more impact at the national and even international level.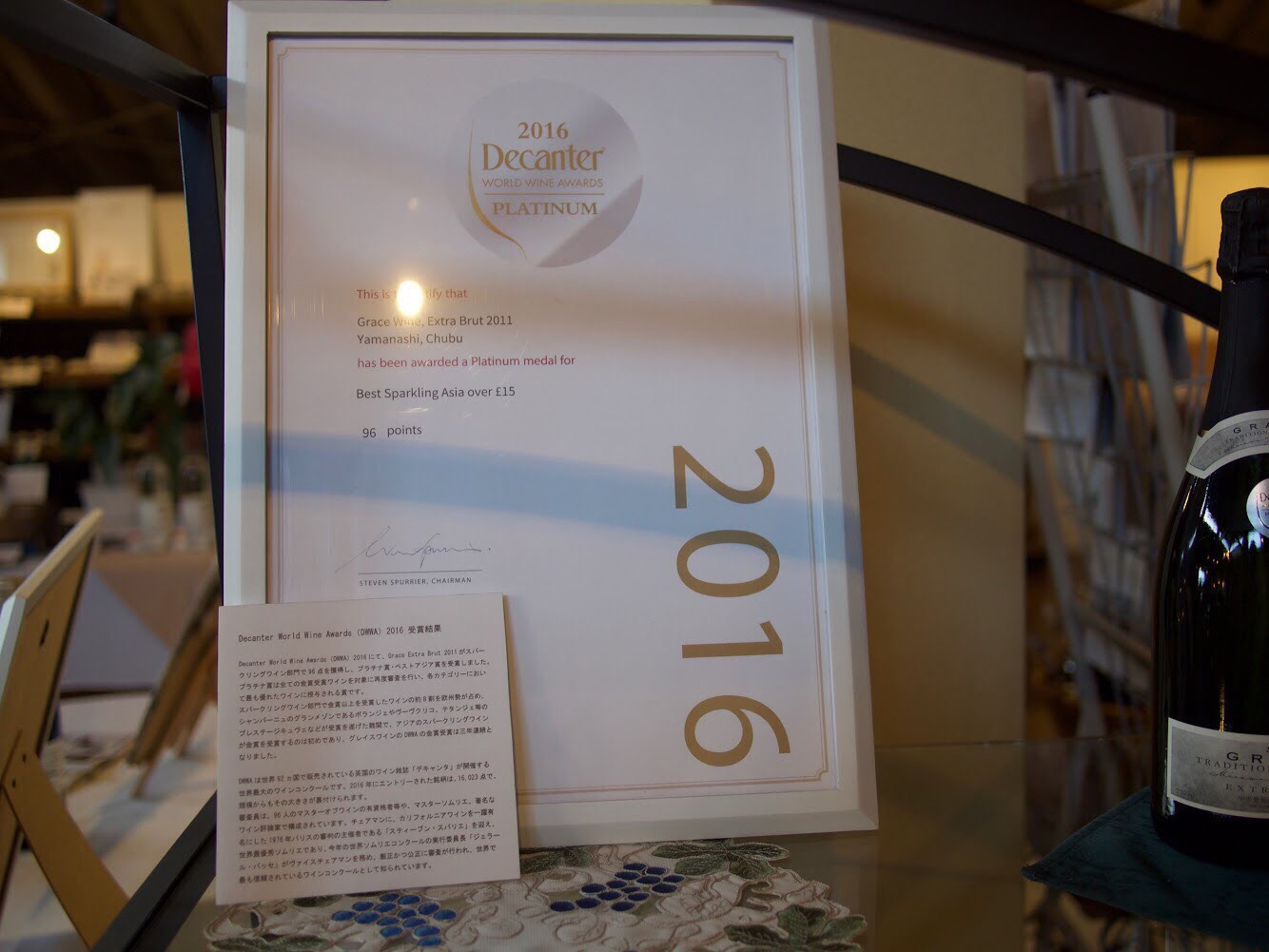 All of this action at the international level aims to increase foreign consumption of Koshu Wine. The price of Koshu wine being a little higher than those of the other countries, but once they have tasted Grace Wine, they are surprised how high its quality is.
Furthermore, a new trend can start to grow for Koshu wine, because wine importers want to find a new white wine to replace Chardonnay that has become too mainstream. New consumers of wine want something new and lighter than red wine, which fits the qualities of the Koshu wine.
Koshu wine's popularity is just beginning. If you have the opportunity, try to taste Koshu wine; this fruity white wine, the only wine endemic to Japan, marries beautifully to Japanese cuisine!
wineries list: http://visitjapanesewinery.com/region/chubu
good wines list : http://www.koshucity-kac.net/2016jyozo
Written by Charles Cottet
Edited by Gengo Miura