Cuisine and pottery are closely related. Even when making the same dishes, the final result would look totally different depending on what it's presented on. A piece of cooked pumpkin sitting in a plastic container versus another in beautiful pottery in matching colors.
"Unlike an art object, pottery is usable. That's what I like about it"
said Ms. Sayomi Sakane, owner of "PARTY" pottery store when asked what her attraction to pottery was. For a long time, she has loved cooking and eating. Hence, she occasionally cooks meals and entertains her customers by combining food and the art of pottery works.
"I want people to know that pottery completes itself when it holds a meal"
said Ms. Sakane. It is impressive to see how she suggests to her customers a combinations; "This plate would be marvelous with boiled spinach seasoned with soy sause," she says to one. According to her explanation, Japanese pottery matches with a family dining table for its dense quality and warmth.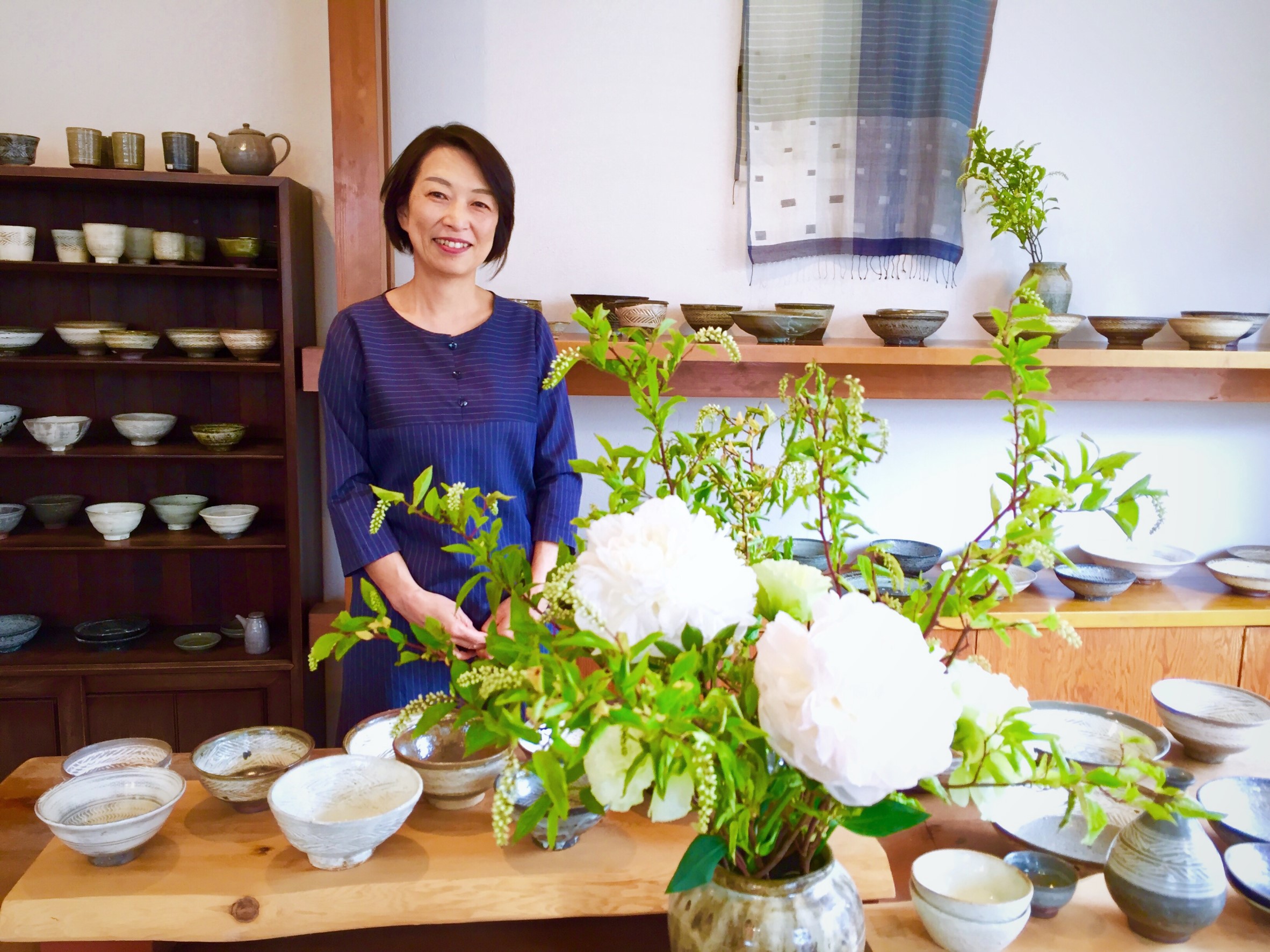 "Choosing pottery based on your mood is the key to picking out the right pottery"
answered food stylist, Ms. Mari Kawasaki when asked how people should pick out pottery. A food stylist is a person who arranges the tables with pottery and accessories so that dishes look more attractive in magazines or recipe books. Ms. Kawasaki explained that there is no absolute rule for choosing the right pottery. Because of her profession, however, she pays extra attention when serving. For example, when she takes a photograph of a gratin, she takes the extra step of scooping out a small portion to readers its ingredients. For wakatakeni, a Japanese traditional dish made with a bamboo sprouts, she selects wide rimmed pottery to emphasize the differences in each slice.
"Expensive pottery is not always great. There is so much interesting and lovely pottery regardless of the price."
In fact, at her restaurant, various pottery such as venerable British brand's and others from hundred-yen stores are used during service. Her pottery comes from beyond the times and borders of modern Japan.
"Black plates make dining more sophisticated, and yellow and red plates instill vitality."
Though she has a professional spirit when setting up her photos, she reminds us that the most important thing is to enjoy selecting plates and cuisines.
Perhaps, choosing pottery might be like choosing outfits. It can also be sophisticated if you combine top-brands and used like vintage mixed fashions. There is no need to think hard. All you have to do is listen to your heart and enjoy choosing.
" It could be charming if you select black plates for squid ink pasta, and red plates for red tomatoes" she added, as if matching a white cardigan with a white blouse.
Written by Fumina Kayano Edited by Naoshi Chiba
Postscript
To eat is to live. I want to enjoy daily meals including choosing potteries.
Fumina Kayano