"Make everyday cooking fun!"
This is thephilosophy of Cookpad a company that was launched in 1998 by Akimitu Sano when he was at Keio University. Cookpad is a recipe sharing service that reaches 90% of Japanese women, according to Ken Toumine, Cookpad's global business departments. Cookpad now has expanded to 60 countries and is featured in 15 languages.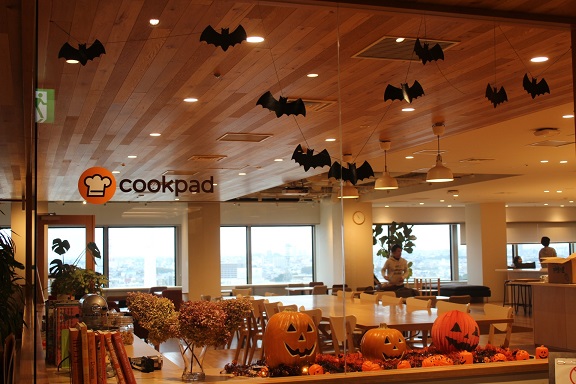 The headquarters of Cookpad is located in Tokyo, and features a fully equipped kitchen where the company holds ~ and the employees cook lunch every day. Cookpad considers this system a good communication tool for employees to mingle colleagues from other department.
"We can share our ideas while we enjoy cooking," an employee said. Ken Toumine warns that many people are eating fast food too much. While fast food is easy to eat, it is clear that eating fast food too much is bad for your health.
Toumine became sick when he studied abroad in the U.S. because of an unbalanced diet of eating mostly fast food. His worried mother recommended him Cookpad, so he could become accustomed to cooking with familiar Japanese foods and overcome his bad physical condition. He believed that health is closely related with what you eatso you should enjoy cooking.
"I hope that everyone cooks every day."
Mita campus held an exchange meeting with overseas students at the head office of Cookpad. The goal of this meeting was to introduce them to cooking Japanese food.
Yumi Wang comes from Taiwan and has been in Japan for 2 years to study law at Keio University. In her home country, eating out with her family is the wston. Ready-made foods help busy Taiwanese people a lot. After she came to Japan, she sometimes cooks Taiwanese and Chinese meals but she dosen't think she is good.
"It is difficult to adjust the quantity of the seasoning," she said, laughing.
Sami Dridi came to Japan in September of 2015 from France as an exchange student, to study computer science. After graduating in March, he now works at an IT firm in Tokyo. He likes to cook at least once a week, mostly French food and simple things like pasta. Sometimes he even likes to bake. He's never cooked Japanese food because he imagines it to always be with rice, but he does not know how to use a rice cooker. In France, he says Japanese food is usually sushi or yakitori.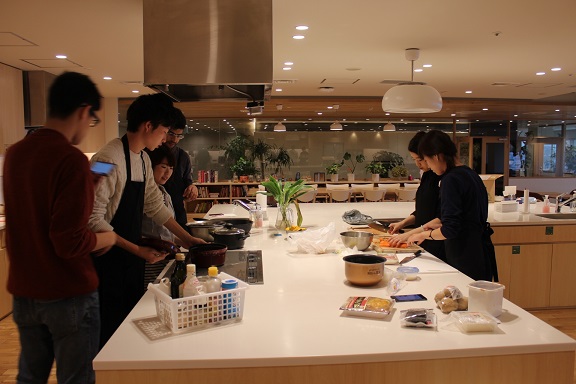 We began to cook each dish separately. It was sometimes difficult for the Japanese students to translate recipes and culinary terms such as Otoshibuta​ into suitable English words. When I was asked what mirin is, I had no quick retort and realized we don't have detailed knowledge about the make up Japanese dishes even if they are very familiar.
○Simmered Pumpkin
Ingredient
Water 200cc
Soy sauce 2tbsp
Cooking sake 2tbsp
Sugar 2tbsp
Mirin 2tbsp
Cut a pumpkin into 4 or 5 cm pieces. (If you cut smaller, the pumpkin will be too soft). Mix water, soy sauce, cooking sake, sugar, and mirin in a pot over medium heat. When the mixture begins to boil, place the pumpkin in the pot. Cover with foil. Simmer for 10 or 15 minutes and the pumpkin is cooked when toothpick comes out clean.
○Niku-Jaga(beef and potato stew)
Ingredients
Fatty thin sliced beef   400g
Potatoes
Carrots
Onions
Konjak
Seasoning liquid base
Water 400cc
Soy source / Cooking sake / mirin (cooking sweet sake) / Sugar   4 tbsp(60cc)
Japanese soup stock (include how to make Konbu dashi) 1 tbsp(15cc)
First, cut the cleaned vegetables into bite-sized chunks at an angle. Stir-fry the beef first and then add the vegetables. Add wed ingredients and konjak to the and remove excess fat. Simmer covered for 20 minutes till the soup reduces. Wait for 10 minutes to make sure it is well seasoned and serve with rice.
○Miso Soup
Ingredient
Water 500cc
Kelp  10㎠×1
Miso 32g
Tofu 1/4
Dried sea weed 2g
Place dried seaweed in small bowl of cold water to hydrate. And put water and kelp just into a large pot and put on uncovered high heat. Remove the kelp just before boiling and simmer on low heat for about 20 minutes. Cut the tofu into cubes and remove the dried seaweed from the cold water and drain it. Add tofu and dried seaweed to the pot. Turn off heat once ingredients are warm. After the water is no longer boiling, dissolve the miso.
○Chestnut Rice
Ingredient
Peeled chestnuts 200g
Rice   360g
Water 360cc
Soy sauce 1tsp
Salt 3/4tsp
Cooking sake 1tbsp
Boil peeled chestnuts in water for 30minutes to soften and drain.
Wash the rice and press with your hand. Drain it and repeat until the water runs clean. Add the soy sauce, salt, and cooking sake. Mix well. Combine with the chestnuts and set to cook.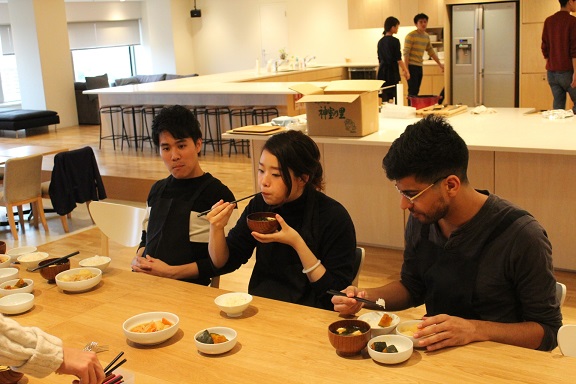 In less than an hour, we completed all the meals listed. We were a little worried about if they would like it. Japanese meals are sometimes said to be too sweet because of the added sugar or mirin. Sami said that they use chestnuts for dessert but not in man dishes in France. However, when they started eating, they seemed to enjoy it.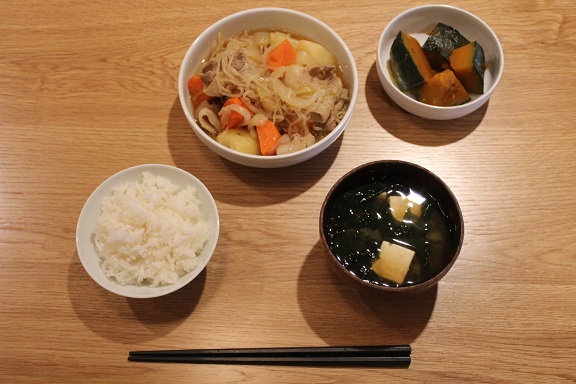 Through this event, all the students enjoyed cooking and realized how fun it was to enjoy cooking together. Creating an opportunity to communicate with each other is more precious than anything else.