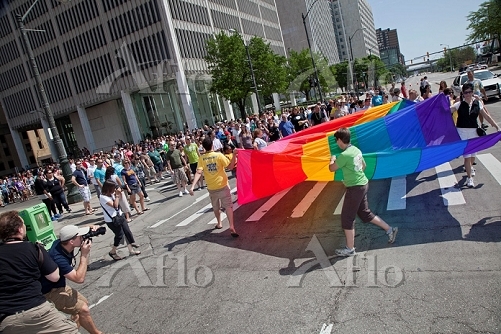 "LGBT" is a term for Lesbian, Gay, Bisexual, and Transgender. Lesbian and Gay are sexually attracted to the same sex. Bisexual don't take sex into consideration in the choice of his/her love-interest. That is, they sexually attracted to both men and women. Transgender emotionally feel that they want to live, dress, etc. as a member of the opposite sex. In most societies, the sexual practices of these individuals are different from what is considered "norm", so they are regarded as the minority.
In such a country as the United States, where those who come under LGBT are more open and less rare, same-sex marriage is officially recognized. In addition to the United States, it is officially recognized in about 20 countries including England, France, and so on as of 2015. In Japan, on the other hand, those who come under LGBT are considered to be unusual, so there were practically no rights for them before. However, in April 2015, Shibuya Ward put in force the Ordinance for Promoting Respect of Gender Equality and Diversity, so-called Same-Sex Partnerships. Thanks to this ordinance, from November 2015 inhabitants of Shibuya can receive a certificate, which grants those who are sexually attracted to the same sex can form a connection equal to marriage with his/her love-interest.
Under such a circumstance as more and more people become interested in LGBT, what do students at Keio University think about this matter? We collected information on it from 274 students by means of questionnaires.
When questioned on whether they know if you know the word LGBT, 84% of questioned students answered "Yes, I do." , showing only a few of them don't know the word itself. It may be because subject matter related to LGBT is featured more frequently on TV due to the enforcement of the ordinance in Shibuya and, in addition, effeminate entertainers, who look, behave, etc. like a woman, appear frequently on TV compared with the past. However, when questioned on if they realize those who come under LGBT has been empowered in terms of rights in Japan, the vast majority of students answered "No, I don't." It is true that Same-Sex Partnerships was put in force and people came to take an interest in this matter, but the actual situation does not follow.
On the other hand, 75% consider that in Japan, it is difficult for people who are LGBT to "come out," as it is said in the United States. Many respondents had this opinion and the reason was that LGBT are minority, which can easily attract biased and become a target of discrimination.
Overall, it seemed that the majority of students in Keio University has more or less settled views or opinions about sexual minority. However, some said that they have no clear realization concerning this topic, since they have no family, friend, or acquaintance who identify as LGBT. This suggests that many students felt this issue is not related to their lives at all, therefore looking on with indifference.
You cannot feel the relation to LGBT unless we keep close to them. According to the survey in 2015 by Dentsu Diversity LAB, the proportion of LGBT in Japan is 7.6%, one out of thirteen. The number shows about a 2% increase compared with that of 2012. That is to say, we cannot ignore them. In this situation, you need to make effort to recognize these subcultures, which is answering the diversified needs of LGBT for example amending laws.
Written by Takumi Ishikawa, Fumina Kayano, Arito Otomo,
George Wiltsher, Ayano Sikita Gengo Miura Tatuya Morimoto Kyoko Yoshioka
Edited by Tatsuki Yokosawa