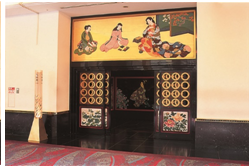 Many foreigners are surprised with the cleanliness of the restrooms. Many public restrooms in Japan are equipped with high-tech toilet such as seat warmers in pursuit of coziness or ones elaborately made by a craftsman. Some even provide luxurious toilets.
In one of those restrooms, "Saigen-Keshoushitsu" in Meguro-Gajoen, Tokyo is significantly special. It boasts spacious restrooms that reproduces the street corners of old times, with elaborated decoration such as mother of pearl inlay work and there is a vermillion-lacquered gorgeous bridge over a small pond.
"This beautiful restroom is designed to provide guests comfort and excitement at the same time," Said Ms. Kana Nemoto, who is in charge of marketing of Meguro-Gajoen. This comes from the philosophy of Rikizo Hosokawa, the founder of Meguro-Gajoen, wanted to do. The place should be for all guests. Mr. Hosokawa went so far as to ask Taikan Yokoyma, a prominent Japanese artist, to paint the wall. Yokoyama declined the offer, but from this we can see how passionate he was towards interior decoration and his sincere hospitality for guests.
While the overall looks of the restroom is rather gaudy, the individual stalls are comfortable to spend at thanks to the meticulous cleaning services. "This restroom accentuates Meguro-Gajoen. This is why people want to talk about Meguro-Gajoen. In fact, we hear that people visit here just to take a look at this restroom." says Ms. Nemoto.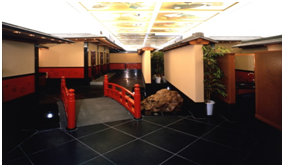 Why does Meguro-Gajoen focus on the interior of restrooms which is beyond practical use?
"We keep the restroom clean out of the hospitality. Providing comfortable restrooms is also a part of our service." Said Ms.Nemoto This comfortable, one and only restroom, which does not seem like a restroom, is ultimate practice of hospitality.
Meguro-Gajoen treats guests with their utmost effort which is visible even in the restrooms. Their deep hospitality are alive in this.
Written by Naoshi Chiba, Keigo Matsumoto, Shuichirou Kokaji
Edited by Moe Noguchi
Postscript
According to this interview, I thought about restroom which we use casually deeper than before. Restrooms often become dirty ,but the Gajoen keeps their restroom clean and designed it with extraordinary efforts. Then, is there anything that we can do for them as guests? Of course I believe "keep it clean and use". (Naoshi Chiba)