In Japan, college students graduate from school in March, and only after a month, begin working as new recruits at their work place. In March this year, students of the Class of 2016 have started to actively hunt for their working place. Most students start their search one year prior to their employment, and some even pre-entry (to apply on the internet) to over 100 companies. In the process of researching and portraying the unique "Japanese style job hunting", we have put a focus on what college students value in employment, and the criteria for employers in the process of selecting students to work with.
"I ended up with a position as a translator after searching an occupation in which I can contribute to the society, which is by fully utilizing my language abilities," says Ms.I, a graduate of Keio University Faculty of Literature Class of 2015, who works for Honyaku Shuppan-sha from this year. Ms.O, (Graduate of Keio University Faculty of Economics and a newly hired employee at a finance-related company) was motivated by an intern experience that her friend encouraged her to join, hence also made an early decision on which field to find a position at.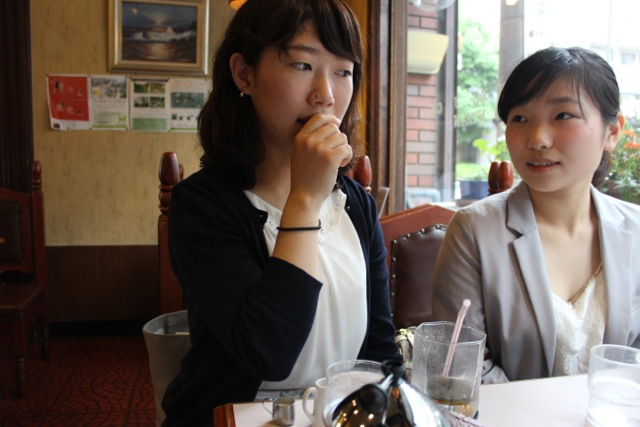 According to an opinion poll conducted by MyNavi (An organization that supports the job hunting process of college students) in 2015, 40% of the college students graduating in 2016, placed importance on "Companies that enable them to pursue work (Occupational Category) of their choice". On the other hand, students that value "Stable Companies" have shown an upward trend starting from 2013.
"The ratio of people wanting to 'Pursue both private and work life' has risen from last year," claims Mr.Yoshimoto, Chief Editor of MyNavi.
Such trend that values stability can be seen prominently from recent college students. MyNavi reported that 65.7% of poll participants chose, "Seeks for a stabilized living," as "a word that accurately describes the generation." This number has increased by 5.3% from the previous year. Additionally, the largest number from both genders answered, "marry the person they love and live happily with their children" as their "ideal future self".
Employers look at the strength gained through experiences during school years in addition to what students learned at school. Then, they evaluate students with a focus on whether the students will be able to constantly execute positive results by utilizing their knowledge and experience.
The chief editor of MyNavi points out "There are many cases in which students, especially Social Science Faculty students are primarily hired as general affairs employees and later on assigned to specialized sections based on their suitability judged from their performance."
The two graduates of Keio mentioned above also comment, "After looking at a few companies, I thought that I could not keep working at environments with a bad atmosphere, even if the business content feels appealing." (Ms. I) "I felt that I would not be able to keep up with the intense atmosphere of the largest competitor of the field that I found was appealing." (Ms.O). This shows how they value elements notably the atmosphere and characteristics of the company when selecting their workplace.
Results suggest that Japanese students today place an importance on pursuing the content of the work, and also the company's stable environment.
Written by Moe Kawasaki, Toshio Nagura, Aimi Takanaga
Edited by Moe Noguchi
Postscript
As a university student, it was a good chance to know the situation of Japanese students' job hunting. At the same time, it was really interesting to think about the unique points of Japanese style job hunting, such like sending out the amount of applications to more than 100 companies and starting the job on April 1st. I'd like to appreciate all of the people who joined this article, especially MyNavi, Ms.I and Ms.O.
Moe Kawasaki
I hope this article reaches the hands of people all over the world.
Toshio Nagura