Hundreds of women are waiting in lines in front of the theater before and after the show. When the Takara-jenne, actresses, come out, they call their names in unison. The scene looks a little bit bizarre. Takarazuka, which celebrated its 100th year in 2014, has fascinated a lot of women by making them feel as though they were invited to a gorgeous dreamland.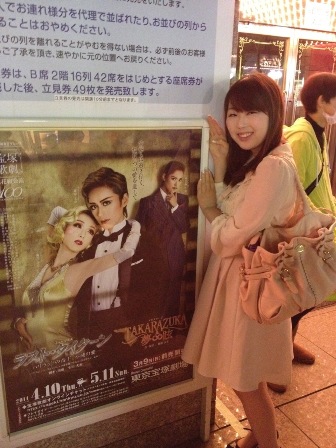 Takarazuka Kagekidan is a troupe composed of only women. Now it performs brilliant musicals and shows in theaters located in Tokyo and Hyogo prefecture. To become a Takara-jenne, girls have to pass a highly competitive exam and survive the two tough years of the Takarazuka music school. Only 40 girls out of 1000 pass, who can tread the stage as a troupe member. "Modesty, Fairness and Grace" is Takarazuka's motto, and a strict hierarchical structure exists. Takarazuka is subdivided into five groups. Every group has a top star of a male role and female role each, and those two play hero and heroin in every performance. Most of thefans fall for the"top stars"who play a male role.
"Takarazuka's hero portray the qualities which women consider as ideal gallantry. "Hanako Tabata, 21, a fan of Takarazuka for ten years, says smiling with a blush on her cheeks. Actresses who play the male characters study men's demeanor and facial expressions in order to perform the romanticized character. Their acquired demeanor is more manly than real men. Similarly, the heroine is more womanly than real women. They always stay reserved, supporting the hero.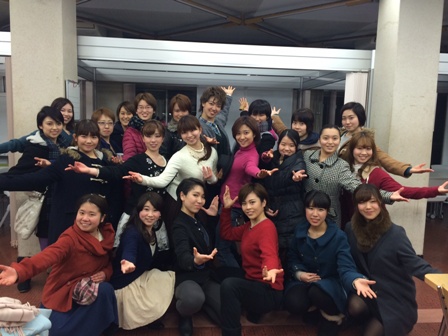 "I emulate to the heroin's demeanor, the way of walking, and hairstyle," Said Miyu Kitayama 20, who grew up with Takarazuka. The passion for Takarazuka has been passed down from her grandmother. Together with Hanako Tabata, she is very active in the Ochanomizu University's musical club MMG, taking up a female role. Both of them are members of the Takarazuka fan club. With a good posture and shining eyes, they talk in an elegant manner which has a feel of the heroin of Takarazuka.
Fans are a part of the world of Takarazuka, a gorgeous dreamland. "We adhere to the motto of Modesty, Fairness, and Grace," Says, Ai Hurukawa 20, who is also a fan of a Japanese idol group. She said she was surprised to see the difference between the two. Trying to get a better view of their favorite idols, fans scream and push each other. This is a popular reaction when they face their favorite stars. Takarazuka fans, on the other hands, orderly wait in lines, acting according to the implicit code of etiquette. They are proud of being Takarazuka fans.
In 2015, Takarazuka Revue and its fans started the 101st year together. In the theaters in Tokyo and Hyogo, many fans embrace the sweet moment, with admiration, dream, and pride.
Written by Hikari Kawaguchi
Edited by Moe Noguchi
Postscript
I am very gland to write this article as a writer in MitaCampus, and as one of Takarazuka fans. I decided to write about this theme because I wanted to introduce not only the gorgeous and beautiful dreamland of Takarazuka, but also Takarazuka fans. When you see Takarazuka, please enjoy the world of fans, too. In conclusion, I wish to express my deepest thanks to all the interviewees, Mrs. Fujikado, Ms. Utsumi, Ms.Hiramatsu, Ms. Furukawa, Ms. Tabata, Ms. Kitayama, and all the people who helped me very much, MMG and Ms. Tachiki.