One cold afternoon in January, an old man worked at the tofu store. His left arm was swollen up, affected with chilblains. When the customers ordered tofu, he used his left hand to scoop tofu from the deep container filled with water. Kuniichi Sakai, the second owner of Otaya-Tofu, has been running the shop for 50 years.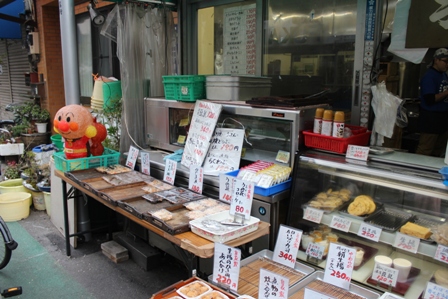 Otaya-Tofu is located in Yoyogiuehara, a residential area, not far from a downtown Tokyo. In this friendly neighborhood area, there are many mom-and-pop shop and restaurants, including Otaya-Tofu, which opened 80 years ago. About 13 years ago, Takeshi, the son of Kuniichi, joined the family business. He is still learning to master the art of tofu making.
At 5:30 a.m. the light are turned on inside Otaya-Tofu. The First thing they have to do is to clean up the shop. Tofu making requires several steps and it takes about three hours. Some decades ago, when people didn't have refrigerators in their household, they came to buy tofu for breakfast at 6 o'clock. Otaya-Tofu sells their fresh tofu that are made inside their store. Their first customer is a businessman who comes at about 7 o'clock every day to drink soy milk before going to work.
Tofu making is two days process. Soybeans must be soaked for a night. The amount of soybeans depends on the weather, temperature, and the number of order they received from business customers. They cannot add more tofu if they run out. It seems difficult. In fact it took 10 years for Takeshi to be able to estimate by himself.
Some of their customers grew up eating their tofu from children to adult. A woman in 60 years who does not live nearby and come to the shop by bike has tried other tofu after moved her out of this neighborhood, but her children did not like.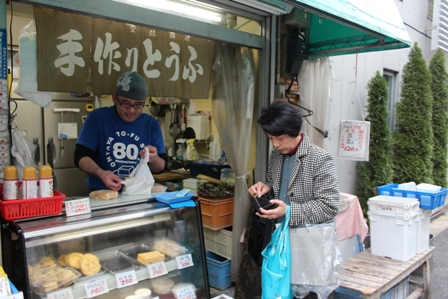 As times change, the number of mom-and-pop shops, such as Otaya-Tofu, has decreased, because of a shortage of successors and the fact that tofu is available in supermarkets and convenience stores. However Takeshi, who used working for a company, quit his job as a businessman when he was 29 years old and joined the family business. He grew up watching his father and grandfather making tofu and he thought from time to time he should follow in their foot steps. Last summer, a supermarket opened across the Otaya-Tofu, but Otaya-Tofu's customers continue to buy.
"I want all our customers to always love Otaya-Tofu," said Takeshi. He is committed to protect the shop.
When the sun was about setting, an elementary school student passed the shop on his way home. Sakai family said "hi" with smile.
Postscript
I want to be a good consumer. There are many mom-and-pop shops that make product with tremendous efforts and great loving care, but in fact some of their business are low. As one consumer, I should make an effort to preserve such a shop by selecting products that are made by them.
Written by Megumi Sato
Edited by Fumina Kayano