"You lose no time in getting married!" "Can't you have a baby?"
These words directed at a female member of the Tokyo Metropolitan Assembly by her male colleague in June. This incident, which drew criticism, extensively was reported not only by Japanese media but also international media. Through the coverage, the world looks at Japan as a country where there is a great gap between man and woman. A lot of Japanese people, too, think that women are not getting enough support at work place. Is this always true?
"I was able to continue to work because my company had a system in place, which supported working mothers" said Ms. Sachiko, who didn't have to give up her job when someone has born. She and her husband work full-time and they share household chores. Ms. Sachiko chose both her and her husband to work full-time even when she had a son and look back those days. When Ms. Sachiko just had her son in early 1990s, her company changed its policy regarding maternity leave. The new policy extended the period of unpaid maternity leave to twelve month. Before that, they could only get four months before and after childbirth.
The working environment surrounding for women in Japan has improved little by little. There is a still long way to go, but we are just on the way to achieve a goal; gender equality. In recent years, a number of males who participate with domestic chores are getting larger. The image of a father changes from a long-established chauvinistic husband to "ikumen", a man who does more in child rearing. However, the word "ikumen" itself reflects the reality of Japan that we are still far from the archiving sexual equality. In today's Japan, it is still taken for granted that women do housework. This idea is a matter of course in current Japanese society. Husband would say "Do you want me to help?" In other words, doing households shows "helping" their wives because it is irregular for them to do these works. And eventually, "ikumen" was most popular word of the year in 2010. In fact, according to the research released by OECD 2014, Japanese men are the most uncooperative with domestic chores among 34 member nations spending only 62 minutes per a day in domestic chores. The most cooperative men, Norwegian men 180 minutes per a day.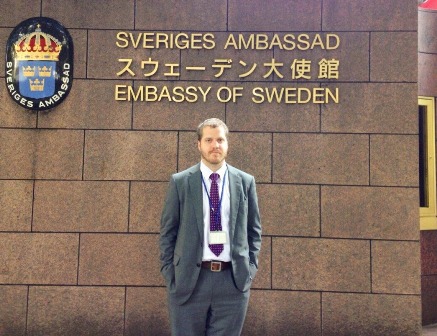 "The important thing is every one of people in the society has a consciousness of abolishing difference between male and female."
Mr. Adam Beije, Senior Officer of, Press, Information and Culture of the Embassy at Sweden, said that way. Sweden is known as one of the most successful countries that promote the gender equality. According to Mr. Beije, there is no such thing as "Lady first" in Sweden because women are treated equally in the society.
"I'd like to avoid the word 'participation of women' in the work place. Instead, I'd like to use 'gender equality'."
During the interview, Mr. Beije replaced the term "increase the opportunities of women with gender equality." This emphasis the fact that men and women are equal in Sweden.
Witten by Fumina Kayano, Hiroka Inomata, Hikari Kawaguchi
Edited by Megumi Sato

※The name has been changed to protect her privacy.
Postscript
Using the word "gender equality" instead of "participation of women". The statement "there is no such a thing as 'Lady first' in Sweden". Mr. Adam's way of thinking toward gender equality shocked me. Now, I'm wondering about how theJapanese society would be when I become a member of society. I hope that Japan will achieve gender equality in a Japanese way.
Fumina Kayano
We started writing this article without the direction. It was because we didn't know the present situation of Japan. To throw away the prejudices and confirm the present situation is one of the steps for the further 'sex equality.' This is what I think through this article. Dear Ms.Sara Elo Dean, your answers for the interview helped our deciding the direction of the article. Thank you very much.
Hikari Kawaguchi
This is my first article in Mita Campus and now I'm very happy to finish writing this memorable one. I visited the embassy, interviewed people, published the article in English and everything was stimulating experience for me. I really thank Fumina, Hikari and Megumi that they supported me and wrote this article together for these two months. Now the topic of sexual equality is one of the burning issues in Japan. For example, Prime Minister Abe establishes policy on improving women's employment and many female ministers are actually appointed in his cabinet. I hope this article can be the chance for everyone reads it to rethink this problem seriously.
Hiroka Inomata