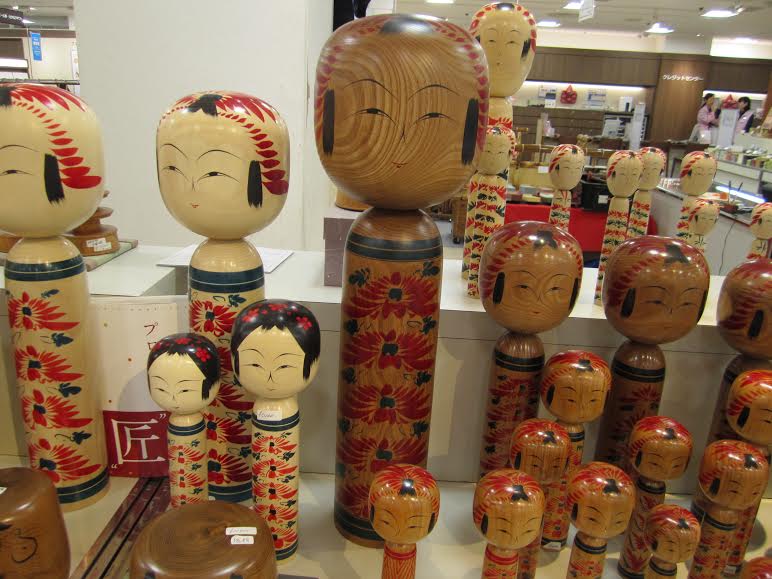 Now, Kokeshi comes back in fashion among young women. Kokeshi is a Japanese traditional wooden doll consisting of cylindrical body with a round head attached. Its faces are individually slightly different because craftsmen draw them one by one. Living in a period of mass production, young women are fascinated with such warmth brought by a one-of-a-kind item.
Kokeshi was originated in a hot spring village of the Tohoku region such as Naruko in Miyagi prefecture and Tsuchiyu in Fukushima prefecture, as a toy for children. Presently, it has been spread all over Japan as a souvenir. Craftsmen called kijishi,turners, usually make wooden goods such as a tray and bowl on a wheel. They make Kokeshi from the rest of timbers as a side job. Kokeshi is divided into eleven types across six prefectures by its looks, shape and design.
In September, 2014, an exhibition of Japanese workman was held at Matsuzakaya, a department store in Tokyo-Ueno. A lot of craftsmen of traditional industrial art object gathered there. Yasuhiro Sato, the young Kokeshi craftsman of-38-year-old, is one of them. He left the company four years ago and took over his father's job, kijishi. He creates anything that can be made by turning the wheel. So, his works are widely ranging from toys such as kokeshi and kendama(Japanese wooden toys) to tools of the tea ceremony.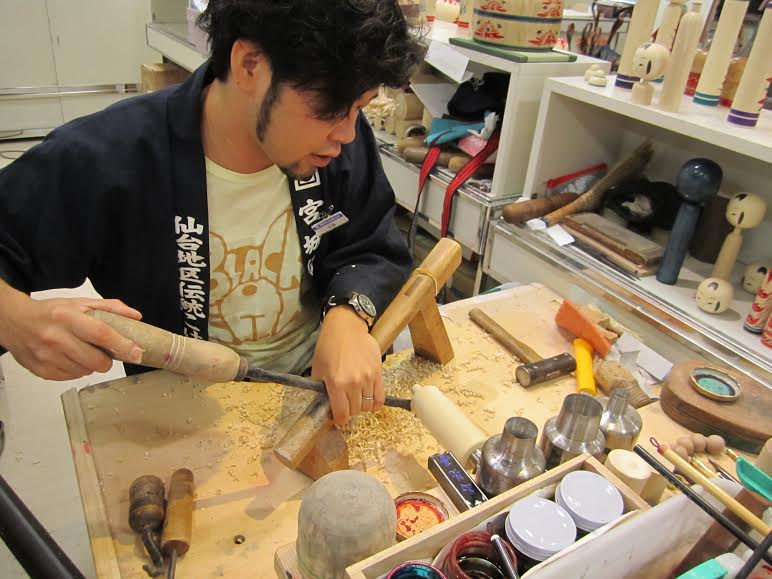 He is also actively involved in activities to liven up the traditional culture. After the 3.11 earthquake, he visited the original Russian Matryoshka craftsmen as apart of traditional cultural exchange. Last year, he made indigo Kokeshi in cooperation with a fashion brand. Although, indigo is a traditional color of Jaopan , it's a novel attempt because blue color isn't normally used for Kokeshi. While he participates in new activities, "I just step on the basis that was built by people before me," he says. Each types of Kokeshi is traditionally determined. So he devises a pattern and abstracts the figure to draw faster within the determined range. He doesn't deviate Kokeshi far from the traditional basis when he's making one. "I am a mediator.I'm on the extension of the road that thousands of craftsmen built. I concentrate on inheriting all the techniques I have to the next generation even though it is very hard." His humble attitude and austere character are very attractive. What craftsmanmakes is different, but enthusiasm to manufacturing is all the same. For him, the other craftsmen in this exhibition are buddies to respect.
Written by Megumi Sato, Asako Hamaguchi