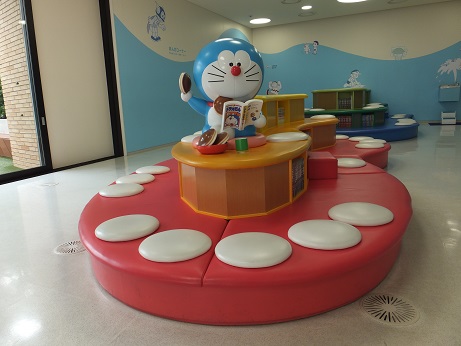 These days, Doraemon is getting popular in many countries around the world. In this summer, TV animation series of Doraemon started in the North America.  In Japan, the first 3D film of Doraemon "STAND BY ME DORAEMON" was a huge success, drawing more than 5 million people.  The museum dedicated to Fujiko・F・Fujio, the creator of Doraemon, opened in September 2011 in Kawasaki city.
Doraemon first appeared on children's comic magazines in 1969.  TV animation series started in 1979 and many children enjoyed watching them. People may think that Fujiko・F・Fujio museum is a theme park of Doraemon and is targeted at small children. However, it functions as an art museum exhibiting many original drawings by Mr. Fujiko. That's why older people are also attracted to this museum. They look back upon their childhood memories as they look at the drawings. At the same time, the museum tries to tell children about the legacy of Fujiko・F・Fujio, who died in 1996. They hope that children grow up with Doraemon as their parents did. In the recent years, the museum has also attracted visitors from other countries especially from Asia.
The museum has another mission: returning the favor to Fujiko's fans.  Mrs.Fujiko wanted the museum to be a place to show gratitude for fans who used small allowances to buy Fujiiko's comics when they were little. Fujiko himself also valued the spirit of hospitality. When guests had visited his home, he always tried to be a great host and he made sure that his guests had a good time at his house. "We try not to forget smiling especially during the busy hours," said a staff member with a smile.
Hospitality can be seen in many parts of the museum. For example, they limit the number of visitors and ask visitors to make reservations in advance. In this way, visitors can avoid the crowd and appreciate the exhibits more. The museum also makes an effort in order to keep children interested in a creative way such as little quizzes in audio guide. Other creative ideas can be seen outside the museum as well.  In the garden, fans are encouraged to find Doraemon's secret gadgets. The Doraemon's eyes on the outer wall of the museum were drawn by Fujiko's former assistance.
"The museum cannot exist without the help of many many others, especially fans. I am so glad that I can be a part of it," said a staff member. "I would like to share this happy feeling with people who visit here."
Written By Miyu Otsuka, Mizuki Hosoe
Edited by Mizuki Hosoe
Postscript
In the process of growing up, we fill ourselves with a great imagination and hope, seeing and considering various kinds of things.  The works of Fujiko・F・Fujio will play an important role to support children's growth and at the same time, they will remain as warm childhood memories in the hearts of people forever.  In Fujiko・F・Fujio museum, which values the spirit of returning the favor, I felt that the Fujiko's works such as Draemon connect the past, the present, and the future. I hope that many people visit this museum filled with much hospitality and touch the attraction of Fujiko's works and his character.
Miyu Otsuka
When I was small, I was looking forward to Friday night, time to watch Doraemon. I was so into Doraemon that I even tried to make Doraemon's secret gadgets with candy boxes. I am so happy that I could write an article about Fujiko・F・Fujio museum which exhibits works of my favorite animation and comics. I really thank for the kind staff members who allowed us to tour the museum and write about it. I hope that the works of Mr.Fujiko would live inside children's minds forever.
Mizuki Hosoe