"The ability to logically persuade other people," said Yuta Fujiwara, the representative of Japan Model United Nations Hiyoshi Branch, commonly known as "HIYOKEN", when asked what is needed when expressing ideas. Working with his fellow members who are forthcoming, Yuta strongly feels the importance of speaking out clearly.
The members of HIYOKEN participate in a study sessions or role-playing activity once a week. This is to prepare for the tournament inside the Hiyoshi branch that takes place six times a year, as well as for conferences where members from all of the universities in Japan gather several times a year. Each member impersonates as an ambassador and they talk about issues that have been discussed in U.N. conferences. The goal in this discussion is to protect their own interests while insuring the benefit of the entire world. It is essential to make a compromise. The members of HIYOKEN often experience difficulties in having their own opinion understood through "negotiations with other countries."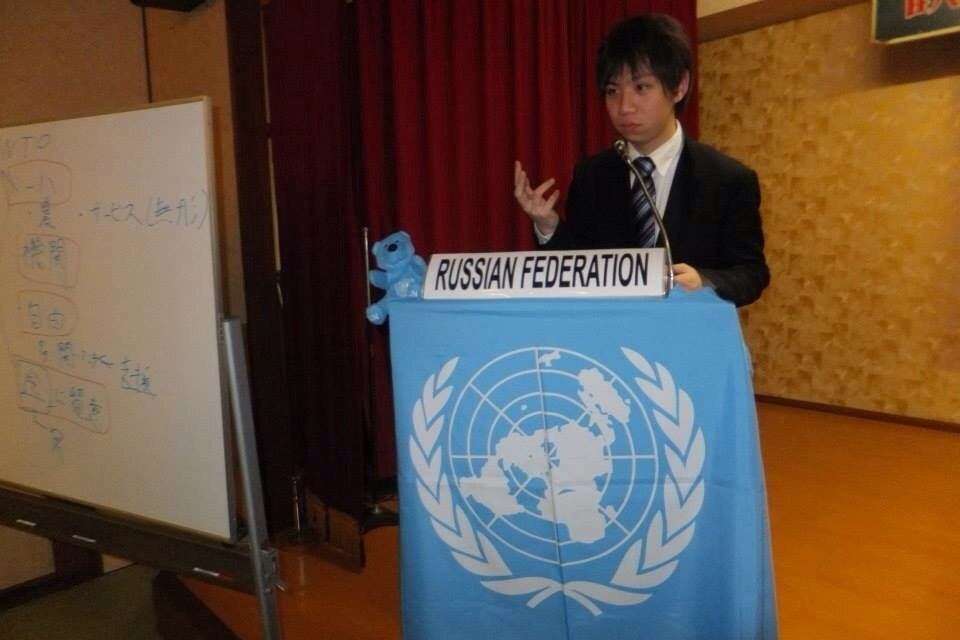 "You can simply give in if you are just going to accept other people's ideas. But if you want to persuade people who have different ideas, you will need to provide some reasons and logic." Yuta said.
Understanding someone of a different background is the bottom line of HIYOKEN activities. They learn to think in other people's shoes through playing their roles. By pointing out the weakness in the opponent's reasoning while asserting the validity of one's own argument, the agreement can be reached.
Nowadays, the ability to express an opinion is needed in many occasions, such as self-introductions, job interviews and presentations. Such abilities are now tested frequently, but how many people can effectively articulate their ideas? Intelligence can be measured based on the content and delivery of one's remark. That's why we need to brush up this skill. It is the key to develop mutual understanding and sophisticated argument.
Written by Moe Noguchi
Edited by  Takumi Ishikawa
Postscript
I chose this theme in the urge to brush up my expressing ability, but realized the difficulty to develop it instead…… Are you satisfied in your expressing ability? (Moe Noguchi)