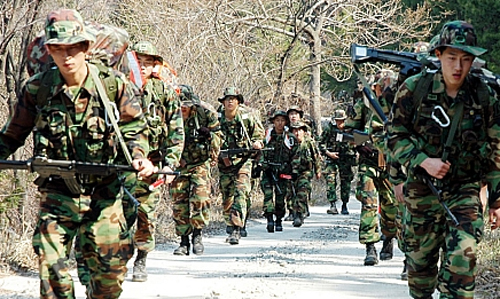 Come spring semester second year and they have seemingly disappeared from Keio University's campus. Their absence goes unnoticed by most, but it is undeniable, they are no longer here. They are Korean male students who have asked for two years' leave of absence from school and left for their country to enter military service. When they come back to Japan, their friends who entered the university at the same time will be 4th year students and be in the midst of job hunting.
"Japanese friends were surprised that I have to go back to South Korea to serve in the army and that I cannot choose whether I serve or not," said Lee ChangYong, a Korean international student of Keio University. Even if they are in same class, few Japanese students know that their Korean classmates have mandatory military service. Many Japanese students do not recognize that the nation next to theirs is still suffering from the war today.
In the army, they are trained for 5 weeks as new recruits and after that they are each assigned to a unit and carry out their military service for 21 months. They are given permission to go out for a day once a month and they have regular holidays for 28 days altogether. Recently, they can limitedly use the Internet in the army, however they are very strict on its use and it is highly limited.
"Time is precious." Park Jeonyong, a Korean international student, feels it wasteful that they must serve in the army at the best time when he can learn a lot of things. Korean international students will forget what they study as 1st year students as well as the Japanese language.   They are afraid of make new and younger classmates after they come back to study in Japan.
It is case that Korean males have to do military service to protect their country, because South Korea does not have large population and there is conscription in North Korea. That is duty of them and they are proud of that. Park can positively received "A matter of course" which they have known since their childhood.
"It is difficult for us to overcome sudden trouble. The experience in the army makes us strong and will help us conquer obstacles in our own lives".
Each generation and gender has their own way of accepting this mandatory military service. However, this institution set up for the protection of the country has had the reverse effect of throwing the students lives off track. When they are parents and have children, how will the system of military service change?  Everybody should use their imagination and take action to better it. The obvious answer is that "The most desirable future is that the country becomes unified and peaceful and that we come to no longer need military service" as Park insisted.
Written by Takumi Ishikawa
Edited by Andrew Upton