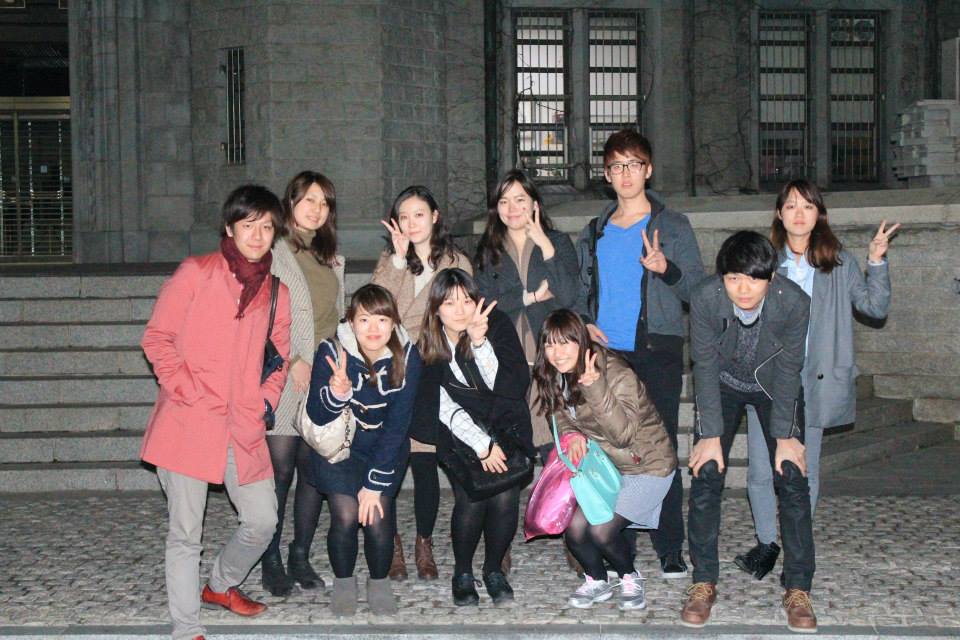 The Granite Tower HP:  http://www.thegranitetower.com/
I slightly did not feel comfortable going to South Korea this March.  Prime Minister Abe visited the Yasukuni shrine last December which exacerbated the Japan-Korea relations even more.  Nevertheless, as a member of the English Newspaper Club, I was eager to interact with the students at Korea University's English Newspaper Club, the Granite Tower.
Students at Korea University welcomed us warmly.  We enjoyed Korean food "Samgyeopsal" together and exchanged information about our club activities and campus life.  Then we casually talked about Japanese young actors and K-POP artists over a bottle of plum liquor called "Mefasu".  I soon had friendly feelings toward them but at the same time, the fact that they discussed about their future goals seriously and energetically in a fluent English astonished me.  I deeply respect them for having a vivid future vision.  Everyone is fully mature as an individual with a firm belief inside himself.
In today's society, many problems between Japan and South Korea exist: territorial dispute of the Takeshima/Dokdo islands, issue of comfort woman, and different ways of thinking about historical recognition.  These disagreements are difficult to solve and much effort is essential.
I had a shocking experience when I stayed at a small guest house in Seoul City. When we arrived late at night, the gate was already closed.  We knocked the gate and an old man of about seventy showed up.  We explained the situation and asked him to let us enter the room in English, but he did not understand.  After a little while, seemed irritated, he suddenly said in Japanese, "You may sit down there and wait.  I'll call the person in charge."  We were surprised because the old man spoke Japanese fluently.
Today, interaction between the two countries is becoming more active, and many Korean people speak Japanese. However, it is not easy to think that about a seventy-year-old man learned it voluntarily.  Moreover, I got the impression that he was refusing to speak Japanese.  Judging from these facts, I thought that some connections with historical background are hidden behind.  The words I studied in my history class such as "Japan-Korea Annexation", "the order forced on Koreans to change their names to Japanese" and "Japanese language Compulsion" occurred to me in the blink of an eye.  I was faced with a result of cruel historical facts, and shudder ran through me.
I think it is necessary to change the consciousness of people first in order to improve the relations between the two countries.  When I think about South Korea from now on, I will remember the students of Korea University or the old man whom I met at the guest house.  This is the best way to change the people of both countries.  What we can do is to form a close and concrete relationship.
I found that South Korea is wonderful and energetic country through the exchange with Korean students.  I hope that both Japan and Korea will find constructive ways to build friendship with each other.
Special thanks to a member of the Granite Tower and Koki Kinoshita, who gave me this kind of precious opportunity!
Written by Asako Hamaguchi