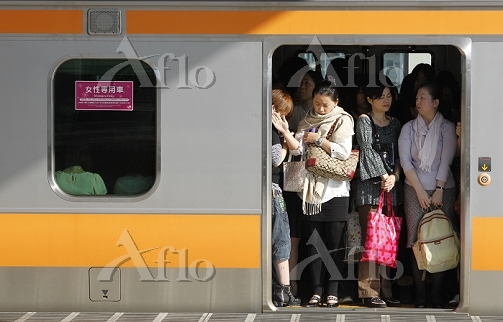 A part of the train becomes exclusive to female passengers during rush hours in Tokyo and other cities in Japan. A bright pink sticker on the windows indicates that the car is "women only."
The very first women-only car appeared in Japan in 1912. It was created out of social values that men and women should be riding on different cars. After the war, the women only car disappeared because of its growing criticism that the idea results in discrimination. It came back in 1980s when women suffer from molestations on trains became a big social problem. Subway and railway companies resume the service to protect women and children who are vulnerable in the over crowded trains.  Men too welcomed the its revivable because they wanted to avoid falsely charged train companies have expanded the services. Pregnant women feel safer because women-only cars are less crowded.
On the other hand, some people question the role of the women-only train cars. Opposition Group of Women Only Cars is one of the activist organizations which have chapters in Kanto and Kansai.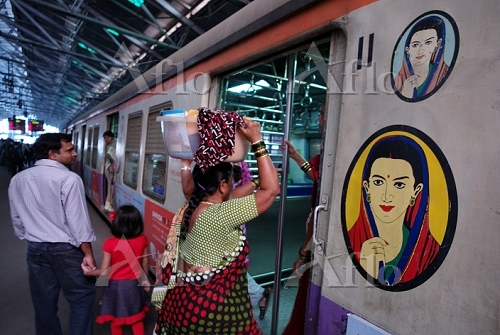 "I should be allowed to get on the women only cars because I am disabled, but people often ask me to leave" said a male participant. A pink sticker says that "the car may be used by men with physical disabilities and their caretakers, as well as children of elementary school children or under," however, troubles between passengers never seems to stop.  Odakyu Electric Railway makes the last car exclusively available for the women so that conductors could act preparation for these kind of troubles, Odakyu electric railway set the last car of the train as women only car, so that conductor could act immediately.
Another case is that a lesbian woman forced to leave because of her tom-boyish looks. Even though women only cars were made in response to demands of both women and men, many problems still remain.
Women only cars can be found in other parts of the world such as Asia, Middle East, Europe and South America. In Middle East countries, women only cars are exist for regional reasons. In England you can find pink women only taxis whose drivers and passengers are women. It is easy to find women only pink taxis with women drivers. The system was created after a series of sex offenses against female passengers were reported. O However, some cities like New York opposed the idea. New Yorkers rejected the proposal because they reminded of the days of racial segregation.
There is no doubt that many people feel comfortable about having women only cars. However, the idea leads to some troubles because it is not always easy to identify someone's gender or disabilities. Thus we should be aware of the danger such that people are judged only by their appearance.
Written by Chisako Ogiwara
                                            Edited by Hazuki Nakamori
Photo by Aflo
Postscript
Once some system assimilates into society, we often stop to doubt the role of it. The myth of nuclear power is a good example in Japan. But the question is. Is the system really making people happy? I would love to keep dialoging with you about these things, and our eyes open. Thank you.
Chisako Ogiwara
I am not opposed to "women only car" or anything. I started to wonder what "women" even means through riding on the women-only car every day. If you reconsider not only sex but also other things you took for granted after reading this article, I would really appreciate it. Thank you.
Hazuki Nakamori