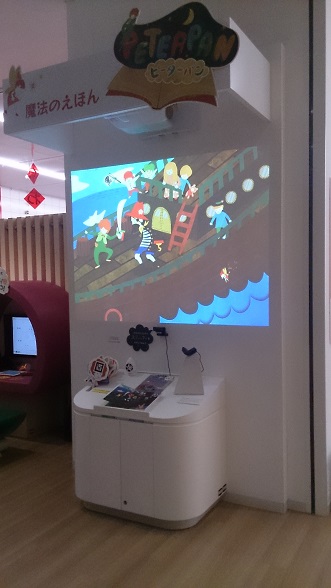 When one moves a picture of Tinker Bell up and down in front of a screen, Tinker Bell on the screen unexpectedly flies from north to south.
This is what is called a digital storybook.  In Tokyo, one can experience such a digital world in Communication Plaza Dot DNP located in Ichigaya.  It is designed to have kids and their parents exposed to digital devices and simply to have fun with them.  A section in the plaza called The Museum for Digital Storybooks provides colorful seats and tables along with numerous tablets which anyone can use.  Many children and parents come here to visit and read books through digital devices.
Ms. Naoko Nakatsui of The Dai Nippon Printing which runs Communication Plaza Dot DNP said that some parents with small children are still reluctant to have their kids use digital devices.  Nevertheless, such new technology allows children to be part of the story which will help enhance the ability to express themselves and communication skills.
"We are not saying that we should get rid of the analog tool.  We hope people understand the good things about both analog and digital devices.  We want them to enjoy reading more stories and we wish this will lead to a brighter future for as many children."
Written by Serina Omata
                                                                   Edited by Koki Kinoshita
Postscript
Since technology is improving day by day, it is imperative to look at the changes that technology bring.  For example, toys have evidently shifted from analog to digital.  Back then, dolls, Lego building blocks were familiar to children, but nowadays, even if people still play with them, they also have iPads and Xboxes in their hands.  Nonetheless, through my research, I have come to realize that analog and digital toys are both good for children, so I hope they like playing with both kinds of toys.
Serina Omata