Have you ever eaten wild plants, which grow on a field or riverside? There is a group of university students which cook with wild grass. "The Party of Nabe," which was founded in 1964, is run by the students of Waseda University.
They go to a nature park or riverside in a suburb of Tokyo, bringing condiment, meat, pans and portable cooking stoves. They pluck grass and cook on the spot. There are some harmful plants, so they carefully choose what to eat, and the grasses are cooked in an appropriate way.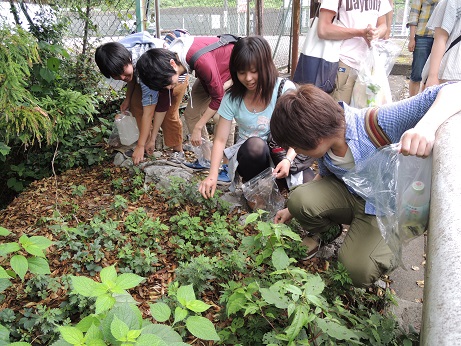 They eat the grasses regularly, but there is no one who loves eating grass in the party.
"Grasses aren't so delicious. What is important is to make them delicious," says Takahito Koyama, who belongs to the party.
All the members eat grasses to share wonderful time with their friends, feeling the nature.
They use recipes for cooking with wild grasses. They also cook popular dishes such as yakisoba or tempura, using wild plants instead of regular vegetable. For example, they cook tempura of potato and dandelion.  The most popular dish among the party members is deep-fried of pork, rolled with leaves of saxifrage, which grows on moist rocks in a mountain.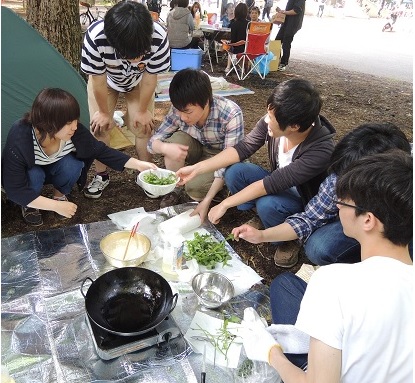 They also made liquor with wild plants, such as mugwort and rocambole, which are soaked in white liquor for four weeks. Unfortunately, it didn't taste good.
Koyama, who has acquired a lot of knowledge and experience through this activity, said he wants to let more people know about cooking with wild plants.
"You can find edible grasses around you easier than you think. I want more people to know that."
Koyama and his friends enjoy the process of trial and error. They are working together to make delicious food with wild plants, which have bitterness and distinctive smell.
Written by Akira Isa
Edited by Asako Hamaguchi
Postscript
I have had no experience cooking with wild plants nor did it interest me so much.  But, I have a friend who belongs to "The Party of Nabe", and I've always wondered how the dishes would be and what they do in the club.  Unfortunately I haven't had an opportunity to try any of their dishes, but I want to participate in their activities soon.  I am grateful to Mr. Koyama for telling me about their various experience and knowledge, Mr. Hanaoka, who is also one of the members, for giving me an opportunity to conduct an interview, and all of the members of "The Mita Campus" who supported me a lot.
Akira Isa