After the final exams, some students stood outside of the class with signs asking others to donate their used textbooks. They are the Keio University members of Study for two. With the slogan "To make a world where all the children that wishes to study can", Kotaro Ishibashi, a Waseda University student, established Study for Two (SFT) in 2010.
The SFT staff collects used textbooks by asking students after exams to donate and by placing a donation box at various places, such as library and cafeteria. After collecting the used textbooks the SFT then sells it to other students at a half price using mail order. the profit earned becomes a scholarship for children in Laos. Ishibashi named this organization "Study for Two", because SFT helps both Japanese and Laos students to learn.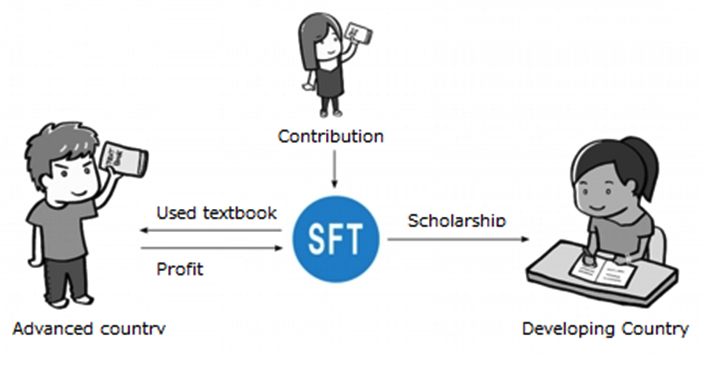 In July 2012, Daiki Oka (faculty of law, sophomore), who is receiving a scholarship, established SFT Keio branch. He was concerned with the textbook expense and felt that SFT could help solve it.
SFT do face some difficulties through their activities at Keio University, Oka said. Selling anything on campus is prohibited and the close distance between the campus and the station makes it hard to open a street stall. Moreover, he said Keio University students tend to not prefer used books and are also not all for volunteering.
While facing some difficulties the SFT Keio branch's sales for the second half of 2012 was 30,000 yen, which is approximately $300. About 10,000yen or a $100 is necessary for children to study for a year in Laos, which means SFT was able to aide 3 Laos children enable to study for a year.
Oka said the he felt a sense of achievement when he saw the photo of the 3 scholarship recipients and the copy of their scholarship. He added, "If our sale goes down, it means the number of the recipients decrease. We must prevent that." Oka's voice was filled with determination and responsibility as the president of the group.
Through her work for the SFT, Mikiko Mine (faculty of law, sophomore), a vice-president, wants other students to  "feel international contribution as something close to them". Through collecting used textbooks and hosting events, Mine wishes for other students to become more interested in international contribution.
SFT Keio staff are working hard"to make a world where all the children that wishes to study can".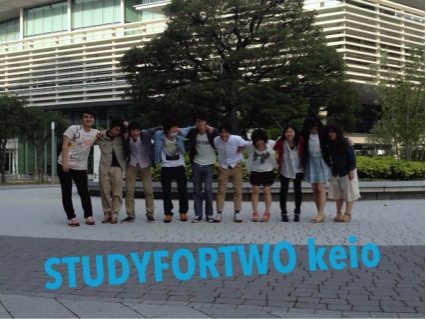 For more information, please visit the website: Study for Two http://studyfortwo.org/
Edited by Moye Mizoguchi
Written by Koki Kinoshita