Harvard University, Princeton University, and the British Museum – these buildings all have one thing in common. Part of the construction expenses were covered by funds raised through lottery sales.  Lotteries are conducted in more than 100 countries around the world, and their profits are used for community development.  Especially, in Japan, lotteries are designed to support the public good.
Lottery ticket booths, colored in red and white, can be found in every corner of the country.  The booths that have generated high-prize winners in the past often hang banners that read something like "A winner of 100 million yen bought tickets here!"  People line up at these box offices to buy lottery tickets.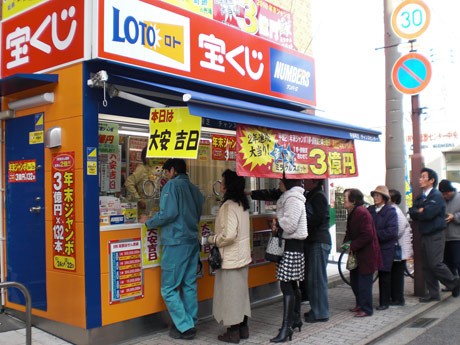 Since lottery tickets are sold from 200 yen, which is a pretty reasonable price, many people look forward to buying lottery tickets every year. Lotteries attract people from various age groups. In one instance, a university student might say "I love the excitement I get when I buy lottery tickets and dream of being a millionaire!"  In another instance, an old man says "Every year I ask my grandchild to choose which tickets to buy."
"The Japanese lottery is designed to benefit people, so it is not gambling," says Mr. Hisao Bando, curator of the Lottery Dream Museum, the world's first museum to provide an introduction to and education on lotteries.  After the Great East Japan Earthquake in 2011, eleven municipalities in the disaster-stricken regions were authorized by the Japanese government to organize lotteries to support reconstruction efforts. Profits from the lotteries reached 4.1 billion yen.
People often think that the sale of lottery tickets gains the banks and lottery providers a lot of money, but that's not necessarily true.  While, lotteries are issued and sold by private organizations in other countries, in Japan issue and vending has to be authorized by Japanese government. In Japan, 46 percent of revenue goes to prize winners.  This number is significantly lower than that of horse races in Japan, where the winner takes 75 percent, and that of lotteries in other countries, where 60 percent goes to the prize winner.  In Japan, 40 percent goes to funding for public projects.
While foreign countries hold lotteries whose winning prizes exceed 10 billion yen, 800 million yen is the limit in Japan. And while the names of prize winners are made public in some countries, where the lottery is a type of entertainment, such information is never revealed in Japan.  In fact, high-prize winners in Japan are given a booklet that instructs how to protect themselves and use their money wisely.
The lottery helps with improving many things around us. For example, lottery sales are used to support Ueno Zoo, one of the largest zoos in Japan, the Japanese Red Cross's mobile blood donation unit, the city library, traffic safety, as well as disaster preparedness and medicine.
Even if you don't win the lottery you can still enjoy it, as the lottery offers a chance to strike it rich on a very modest investment. Therefore, the money you spent is worthwhile.
Edited by Yukino Watanabe
Written by Mizuki Hosoe, Shunsuke Ogawa