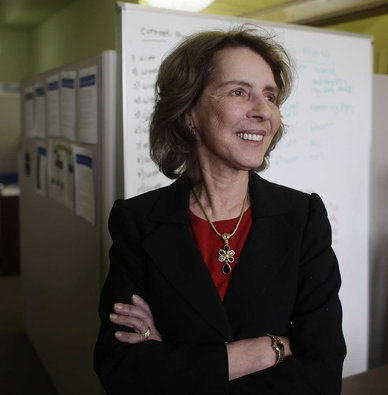 Handmade accessories and baby clothes with original designs. You see many websites like these and they are operated by start-ups whose owners are housewives. They started a small business wanting to express themselves and be part of society. In the United States, Women entrepreneurs are expected to play an important role in reviving the economy.
On the other hand, it is difficult even for professionals to grasp or estimate the number of women entrepreneurs. No one knows for sure whether it is increasing or not. However, the White Paper on Small and Medium Enterprises in Japan" shows that about 15 percent of entrepreneurs are women as of 2012. The number is low, compared to those of other developed countries.
Yokohama Women's Association for Communication and Networking, a non-profit organization, provides seminars about how to start a business as well as hands-on workshops that help to make their dreams come true. It can be said that the government is funding the Yokohama city and other private organizations for the purpose of holding seminars for women entrepreneurs. Supporting women entrepreneurs like this is the mainstream approach in Japan, since Japanese women typically feel comfortable about starting and running their business with little money  they saved. Some may apply for financial support in order to expand their business after they become somewhat successful.
On the other hand, there are laws that give helping-hands to women-owned-businesses in the United States, including Federal Acquisition Streamlining Act of 1994, which mandates five percent procurement to women-owned-businesses. These laws directly and financially help women entrepreneurs. Moreover, a lot of NPOs supporting women-owned-businesses are not just holding seminars but proposing programs and bills to the Congress, based on the needs of women entrepreneurs.
Despite the unsettled environment, Kiki Sugino started her own business in Japan. She established a film company, "Wa-entertainment" in 2008 after she graduated from Keio University. Ms.Sugino, who is also an actress, has produced movies including "Kantai."(歓待)
When she was starting a company, a friend gave her a warning advice.
"You have to be patient. You probably won't make a profit for the first three years. It's easy to start a business, but it's not easy to make it grow."
Ms.Sugino felt that women entrepreneurs are not well accepted in this country because the society remains conservative. Ms.Sugino sometimes feels that she is regarded as being pushy.
While the nation's business culture remains conservative, there are now more ways to support working women according to their needs and lifestyles. When startups become more commonplace among women, Japan will be  "richer."
Written By Haruka Mayumi, Maiko Inada
Editted by Ayano Watanabe