In France, a group of Japanese women appear on charity events wearing kimono. They gather donations for reviving northeast Japan, affected by the Great earthquake and ensuing tsunami. They are the members of Paris Komachi, a non-profit organization, (Komachi means a Japanese lady with feminine beauty).
Right after the earthquake, many Japanese artists in Paris held charity concerts to gather donations for Japan. Hiroko Masuda, a president of Paris Komachi, was impressed by their efforts and she  wanted to do something.
"I thought I could help gather donations by wearing my treasured kimono," she said.
Then Masuda and other kimono lovers living in France got together and offered help at a tea party on April 3, 2011, which was part of a charity event. Wearing beautiful kimono in the city of Paris, they served tea and sold Japanese sweets.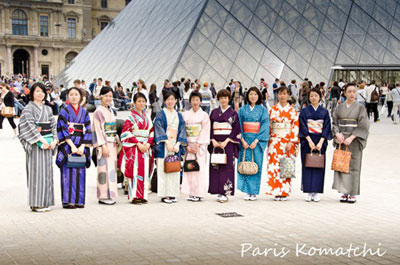 At many charity events, they worked energetically under the slogan "things we can do by wearing kimono in Paris." From July 5 to 8, 2012, Paris Komachi set up a booth in JAPAN EXPO, the biggest Japanese festival in Europe. It took place in a suburb of Paris introducing Japanese culture. At their booth, visitors could try kimono for 3 euros or buy pouches hand made by people in disaster-affected province. The total of sales reached 1678,71 euro (about 165000 yen).
Members of Paris Komachi are motivated not only to contribute to reconstruction efforts, but also to promote the beauty of kimono. Walking on the street of Paris in kimono, they often receive good comments and are asked  to take a picture. A little thing like this makes them happy and proud. Meanwhile, through their activities to promote kimono, they hope that French people would become interested in Japanese culture and tradition.
You don't have to be a Japanese to feel beauty of kimono. "We will continue to wear kimono. We want to contribute to the popularity of kimono in Paris," Masuda said,Concerning the prospect of Paris Komachi, They continue to attract people in Paris through their activities.
Written by Hazuki Nakamori, Hana Isaka Saeid
Edited by Ayano Watanabe