A "school" for foreign students is located in a quiet residential area in Shinagawa, Tokyo. At the school, Interact with Community (IWC), a non-profit organization, offers learning support for foreign children. IWC provides supplementary classes for elementary and junior high school students as a part of the initiative to unite Japanese and foreigners.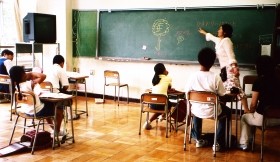 Tutoring takes place in a classroom of a public school. When we visited Yamanaka Elementary School, where IWC instructors teach children, there was only one student in the classroom: a boy with beautiful blond hair. The bell rang at the end of the class. He said in fluent Japanese, "Kiritsu! Kiwotsuke! Rei!" which means "Stand up! Attention! Bow!"  This is a common way of beginning and ending a class in elementary schools. "Now, it's time for lunch!" he said with a beaming smile and went back to his own school.
Many foreign children struggle to understand what teachers are saying or catch up with class work. This is the reality that many of the foreign children in Japan are facing. According to the survey by Ministry of Education, Culture, Sports, Science and Technology, another main cause of foreign children dropping out of school is their lack of Japanese proficiency, besides the financial burden of their parents.
"Foreign students are bullied because they cannot communicate in Japanese," an official at Kanagawa Prefectural Institute of Language and Culture Studies said.
According to the government survey in 2010, 28,575 foreign students in public elementary and high schools need help with Japanese. In Hamamatsu city, Shizuoka, located in central Japan, only 73.7 percent of foreign students attended high schools in 2008 while almost all of the Japanese students did.
Some say that the government is not doing enough to meet the needs of foreign students. Today, each local community decides what sort of support they should offer foreign students. Placement criteria vary. Some schools place students according to their age while others do so based on their level of Japanese. Some elementary schools provide extra Japanese classes for students who need help. However, there are neither curriculums tailored to their needs nor teachers specialized in teaching Japanese as a foreign language. The quality of classes depends on the teachers' experiences and ambition. In fact, the number of foreign students is small in Japan and it is hard to gain enough support.
To address this problem, IWC is providing Japanese classes for high school admission commissioned by Shinagawa's Agency for Cultural Affairs. Since 2007, all of the students who attended IWC have passed high school entrance examinations. Many children even go on to universities.
Misato Ito, the president of IWC, added that elementary and junior high school students become proficient in both reading and speaking Japanese with the help of IWC after only three months in Japan.
At IWC, children from various elementary and junior high schools gather. Regardless of their age and grade, children are divided into classes depending on their Japanese proficiency. However, IWC uses the same textbook for all of the classes. Students enjoy their classes that are well designated for each of their abilities. So, why it is so successful?
For one thing, IWC emphasizes accuracy of intonation and pronunciation as well as good manners. Language, according to IWC, is more than just a means of communication. They believe that students should assimilate into Japanese society by learning appropriate choice of words. This leads to successful job or entrance exam interviews.
Another key is emphasis on writing. At IWC's tutoring, children are asked to express how they feel in Japanese. IWC doesn't teach Japanese as a completely new language but tries to help them "replace" their thoughts in their native language with those in Japanese. Their goal is to enable children to express and discuss how they feel in Japanese. In order to accomplish this goal, children write essays about whatever they want. As they do this exercise every day, their Japanese improves.
As an outcome, IWC's students succeed in both becoming fluent in Japanese and being integrated into Japanese society.
Foreign children often drop out of schools because of their nationalities and inabilities to understand Japanese. Meanwhile, non-profit organizations, volunteers and municipalities are taking the initiative to provide educational support that isn't given by the Japanese government. Even so, there are still many students who cannot receive such assistance and continue to fall by the wayside.
Written by Emma Unedaya,  Mami Kanda,  Ami Sato,  Yukiko Ogata,  Moye Mizoguchi,
Shunsuke Ogawa,  Yukino Watanabe,  Hana Isaka Saeid
Edited by Ryo Suganuma