"How would you feel if suddenly a foreigner was going to take care of your loved ones?" asked Tias Palupi, an Indonesian native who works as a caregiver at the Midorinosato, a nursing home in Aoba ward, Yokohama city.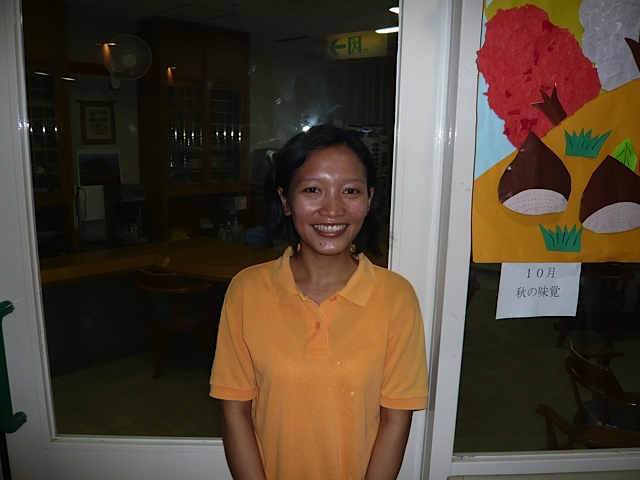 Tias came to Japan in 2009 as a prospective caregiver as part of the Economic Partnership Agreement (EPA), signed between Japan and Indonesia in 2008. As of 2011, 788 Filipinos and Indonesians have been working and training as a caregiver at nursing homes. They are expected to stay in the same nursing home after passing the national exam to become a licensed caregiver after 4 years of training.
Ninety-five EPA trainees took the exam in March, and 36 passed.  Tias is one of the successful trainees. In total, 63.9 percent of all applicants, including the Japanese, passed the exam, but it wasn't easy for Tias or any other EPA trainees. They need to be knowledgeable not only about nursing but also about the Japanese social security system. Unlike Japan, substantial social security system does not exist in Indonesia, and that makes it hard for the Indonesian trainees to understand its concept. Another difficulty is that the exam is done entirely in Japanese.  Trainees are expected to have a good command of Japanese.
Not only do they find the exam challenging, but EPA trainees come across with many obstacles in training and working at the nursing home. When the nation began to accept prospective caregivers from other countries, the trainees and their recipient nursing homes did not know what to expect because it was unprecedented attempt. Ms. Furukawa, the chief member of the Midorinosato nursing home, did not know what to do and how to help Tias to feel comfortable at her workplace.  In the past, some of the trainees who were working at other nursing homes went back to their home countries in the middle of their training period because they felt uncomfortable.
Nonetheless, Tias'work environment is significantly positive. Three years have passed since she came to Midorinosato, and yet no complaints have been received. When she was absent for 4 days because of her training in Kyoto, her patients missed her.
"I didn't see you for a while. Are you feeling OK?" they asked when she returned.
Her colleagues also acknowledge her efforts. In her second year at the nursing home, she asked for a two- week leave of absence to see her family in Indonesia. This is considered as a long vacation in Japan.  Ms. Furukawa worried that other employees would find it unfair if she gave Tias2 weeks off. Surprisingly, a person who persuaded Ms. Furukawa to give the permission was Tias's boss.  Her strong commitment towards work had made her boss say that he would take all the responsibility for this. Ms. Furukawa said with a smile that she feels Tias is like her real daughter.
There are trusted relationships among the employees in Midorinosato, which allows anyone to express their candid opinions. Tias, too, can voice her own opinions. This is one of the things that Midorinosato has been working hard to achieve. Not all institutions are like this. Some places only let their trainees study, but not work. In contrast, Midorinosato treats their trainees and Japanese employees equally.  Six months after her arrival, Tias began to play a vital role. So she worked hard having  no time to study; she  started to prepare for the examination in her third year.
When Tias first came to Japan, she had mixed feelings about her work.
"Are they really happy to be taken care of by someone who is not their family member?"
In Indonesia, the elderly are taken care of not only by their family members but also by people from their community. Therefore, Tias did not at all feel reluctant to take care of elderly people. However, she could not stop wondering if her patients would feel uncomfortable.
Her concerns gradually faded as Tias went through her actual training and understood the Japanese way of thinking.  She learned that some patients chose to live in the nursing home because they did not want to bother their families. When it comes to asking a favor, they can ask a nurse or caregiver, but not someone from their own families, who are less likely to be tolerant than nurses and caregivers. Now she believes that it is a good thing that she takes care of her patients as if they were her grandparents.
"I got my license, but there are still so many things to learn e," she said.  "I want to learn more about nursing and care plans in Japan. And I want to make good use of  my experience   in the  future when I return to Indonesia."
Her coworkers rely on her, and her patients love her. It does not matter where she comes from; she is trusted as a caregiver. She said she still feels pleasantly surprised that she is well accepted by Japanese people.
"We, who live in the Midorinosato, are a family under one roof."
Written by Yukiko Ogata,  Yukino Watanabe,  Shunsuke Ogawa, Ami Sato,  Mami Kanda,  Hana Isaka Saeid,  Moye Mizoguchi, Emma Unedaya
Edited by  Ryo Suganuma