Live in "Muen Society" (Introduction)
The moment we walked into the alley, we shuddered with fear and wished to hurry through it as soon as possible.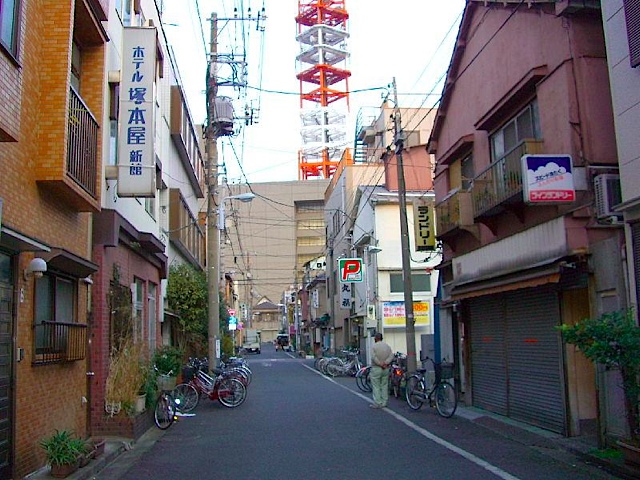 We visited Sanya, an area which lies in the center of Tokyo. Along the main street, there are ordinary houses and even an elementary school: it looks like any other old town at first glance. However, once we walked into small alleys, we found ourselves in a gloomy space.  Old flophouses stand closely to one another and some shops and laundromats were dotted in the narrow alleys. Old men with shabby clothes were wandering around in the alleys giving us a glance as if they were wary of us.
Cheap inns have existed in Sanya since the Edo period. During the postwar reconstruction period, people in the countryside came and stayed at such places in and around Tokyo to earn money. Since then, Sanya has drawn homeless people. They took up day-labor jobs and lived in flophouses called "Doya." Inhabited mostly by alcoholics, drug addicts and gangs, the area was so rough that violence occurred frequently. However, Sanya has recently transformed itself into a better place to live.
"Kibounoie,"which means a house of hope in English, is a non-profit organization that runs a small hospice inside the area full of Doya (inns). This institution has gradually changed this town. Its founder, Masaki Yamamoto, who can be regarded as a guardian of Sanya, came across a question when he was volunteering at a soup kitchen in Sanya ten years ago.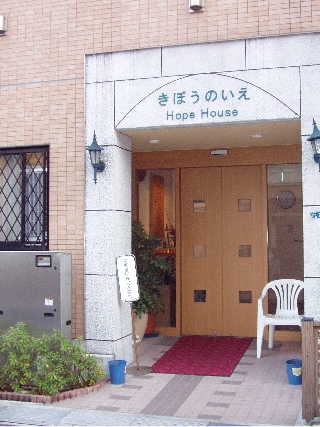 "We can provide one meal to a homeless person, but we don't know if he will survive next day. He may die somewhere without being noticed. Can we let people end their lives like this? "
He felt something had to be done about the situation in which homeless people face the last moment of their lives in solitude without having any social contact or even family ties.
"What they really need is the connection. Not a one-time charitable activity in the soup kitchen. We should get to know each other.  I want them to end their lives fully satisfied," Yamamoto said.
Driven by these wishes, he decided to create a hospice. He managed to raise 200 million yen (about US$2.5 million), the fund needed for the construction. Then, "Kibounoie" was founded in 2002. Currently, there is a 3-month waiting list for those wanting to get in.  The popularity indicates how fulfilling the life in the hospice is.
Mr. A, who had been homeless, often lost his temper over trivial things when he joined the hospice. However, one day, he heard a voice saying, "You are safe now." These words changed him. Mr. A became calm and gained peace of mind as he spent his time in the warm community reading a variety of books. He finally passed away with a peaceful smile on his face as if he had no concerns left in the world. It might be the book he was reading that helped him face his death more positively. Mr. A could end his life happily, which Mr. Yamamoto had longed for.
   There are more things that helped change Sanya from a dangerous to a safer place. One significant force, Yamamoto asserts, has been women. More and more of them are coming to this area as caregivers who help homeless people in flophouses recover their self-esteem. Most homeless people are out of touch with society and their families, and that makes them feel so lonely that they shut themselves up. That is why they act like a child in front of the caregivers: they are testing whether the women are capable of accepting them. By doing so, the homeless people come to open their mind to others and recover their self-esteem. In this regard, those women are doing more than just a caregiver's job, a point Yamamoto acknowledges. The group of female caregivers is a success.
Over the past 10 years, Yamamoto has dedicated himself to creating a place where people could die contentedly. He continues to work aiming to expand his initiative throughout the country. If grass-root activities like this spread nationwide, it would stop the country from being a more "Muen(disconnected)-Society." For this reason alone, we should continue to keep a watchful eye on urban development projects taking place in Sanya.
Written by  Haruka Mayumi, Shun Oyobiki
Edited by  Teppei Yokota