Live in "Muen Society" (Introduction)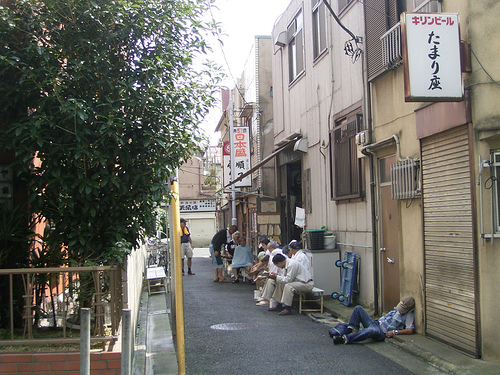 "The other day, I was dead for a minute."
These were the first words of Takao Shiro, a 64-year-old school teacher. While he was practicing kendo, he had a heart attack. A doctor and a nurse happened to be around so that he could escape death. The seriousness of the subject contrasted with his cheerful tone.
Shiro teaches Classical Japanese in a high school, but he had lived on the street for several years in his early thirties in Sanya, a place where day workers come to look for a job. Little of this influence seems to have left its physical mark. He had a sturdy body, neat gray hair and he wore a light blue shirt. He looked decent. There was nothing left of him that suggested he was once a homeless man with long hair who rarely took a bath. As he started to talk about his days in Sanya, however, his face turned stiff.
During the 1960s, the Japanese government embraced democracy and equality, but a prospering capitalism contributed to widening the economic gap between the haves and have-nots. Many people became skeptical about this contradiction in society. In particular, students became involved in the anti-war movement. Shiro was a college student at that time and he became enthusiastic about the movement.
"I could not imagine that I cut my hair short and got a job…," Shiro recalled. People felt a great contradiction that lay in society, and they moved to act. "Why did I seek a revolution?" he asked himself.  He depended on his friend's income, lived in his apartment, and stayed inside all day.  One year later, he was preoccupied with the moral decadence: Fall until you hit the bottom. He then left his friend's apartment and started to live in a cheap lodging house called "Doya" in Sanya.
Sanya was a place where physically and mentally fragile people ended up. Most of them were living in solitude, having broken off relationships with family and friends. They didn't reveal their real names or their past. Shiro, on the other hand, never lost himself in such a situation. He worked on construction sites, doing toilsome manual labor. While he was digging a pit with sweat dripping down his body and face, his mind was completely empty. That made his life in Sanya easier.
After two years passed since he came to Sanya, he was forced to sleep in a public park because he could no longer stay in a Doya. And then, something happened that changed Shiro from within.
One night at Ueno Park, he was sleeping in a ramped tunnel.  And he noticed that his head was wet with urine trickling down from above. "What was that?  Ugh, disgusting!" was his immediate reaction, whereupon he rearranged his position, lay upside down, and went back to sleep. Then suddenly, he realized that something was wrong. Shiro was stunned by how easily he just handled the urine. He felt a sense of fear;he couldn't believe he had adapted himself to the environment so well during his life in Sanya. This is when he decided to leave Sanya for good. Financially supported by an old friend from school, he started looking for a job. Needless to say, it was not easy for him.
One day he heard a rumor that his friend was working as an elementary school teacher in Yokohama.
"If he can do it, I can do it too."
He was motivated by this simple fact, but he studied very hard taking correspondent courses. His effort paid off at the age of 36 when he finally succeeded in becoming a teacher.
"Since the Japanese economy was doing well, I didn't have to worry about dying from hunger. Society gave people dreams to live for," Shiro said, "but nowadays, because of the recession, society can only tell its people to work hard and hang in there."
The characteristics of society have changed since the days Shiro lived in Sanya. Those who have a high school degree had replaced day workers like the old Shiro. Their positions in society are becoming weaker and weaker. Young people fear that a single failure will prevent them from getting back on their feet. Society fails to give them hope. But Shiro wants to let these young people know one thing.
"In life, there are plenty of paths that you can choose from as long as you are alive."
Unless they learn from failure, people cannot make progress.
"The worst-case scenario is a situation where you cannot find a meaning of what you are doing," Shiro said. "No matter where you are, you can go on if your true self is strong."
Written by Shota Saito, Ayano Watanabe
Edited by Teppei Yokota