Live in "Muen Society" (Introduction)
"If I don't have any contact with people, that means I don't exist," said a single middle-aged man who was interviewed in the NHK special program on "Muen (disconnected)-Society." He lives alone in an apartment in Tokyo.  He doesn't have a family that he can depend on. He doesn't have a solid relationship with his company either.  He is afraid of dying alone. Some time ago, in the apartment complex where he lives, an old resident died without being noticed.  It was not until a week later when the old man was found dead.
Such cases are being continuously reported, but there is a growing movement to create deeper relationships among people. In recent years, a new style of senior housing has emerged, drawing media attention. Such facility embraces the concept that people in the community should help one another to live and die gracefully.
Senior housing facility called "Yuima-ru Hijirigaoka" is surrounded by rich nature in Tama city, Tokyo.  Its dining hall is open to public, so anyone living in the community can use it. We saw a mother and her daughter enjoying their meals when we visited there.
"The home designed to meet the needs of people" is the concept of this senior apartment complex. The management and prospective residents worked together to create a home that they wanted: they had a lot of meetings and discussion before the construction started. Another interesting feature is that they collaborate with local community. For example, Tama Kusamura-no Kai, a non-profit organization, runs the dining hall and also sells their vegetables.  Medical care services for the elderly people are offered by Ten-ou Kai, a local medical institution.  Residents cooperate with each other, without depending on the staff. The housing facility doesn't necessarily provide luxurious services, but it has a good reputation because people can feel secure.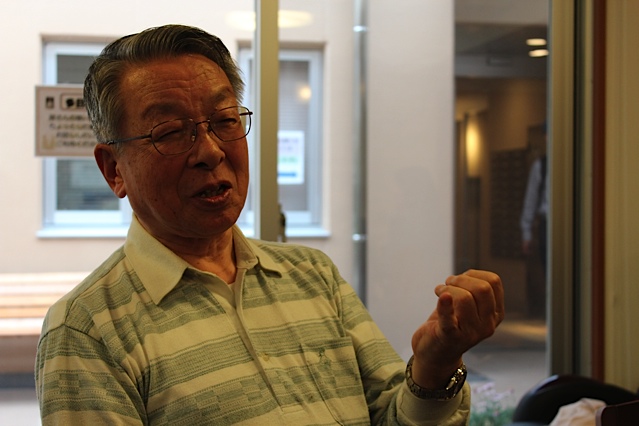 "We don't feel isolated here because we can make friends. I think we have created a 'connected society,'" said Yasushi Kurihara who has been living in Yuima-ru since six months ago.
He had started to think about moving to the senior housing because he had some health problems but he didn't want to trouble his daughter: He didn't want to ask her to take care of him. Mr. Kurihara now enjoys his life in the Yuima-ru.  He enjoys talking with his new friends.
"I want to spend time with friends as long as I'm in good health.  If I didn't come here, I would have regretted it."
Ms. Shimizu, who is single, intended to live on her own for the rest of her life, but she became concerned that somebody had to take care of her things when she dies.  She doesn't want to trouble others.  So she decided to live in a senior apartment.  Before she moved into Yuima-ru, she threw away half of her belongings to start a new life.
"I can eat with friends here every day," she said happily.
What makes their lives more livable is that the residents voluntarily take part in many activities.  For example, there is a "book club" where they can borrow books that were contributed by their fellow residents. In a choir, they sing their favorite songs.  These activities help strengthen the bonds among the residents.
Mr. Kurihara takes part in a book club.  "He does a lot to improve the library," a staff member said, acknowledging his efforts.  Active participation of the residents is the key to successfully maintaining Yuima-ru.
Hideki Watanabe, a professor of the sociology of the family at Keio University acknowledges the efforts made by Yuima-ru. He is an expert on the issues relating to an aging society.
"Fewer people live with their old parents these days, so it is quite difficult to revive kin ties that have been weakened.  Yuima-ru will become one of the significant prototypes that foster 'regional bonds' among elderly people."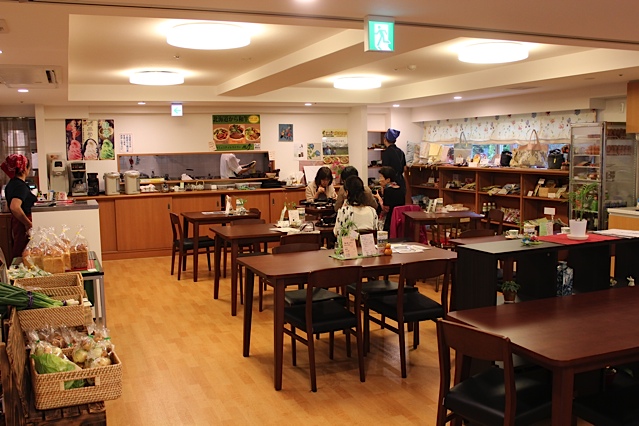 Yuima-ru is designed to unite its residents and people in the local community. It also provides its residents with a variety of activities that they can voluntarily participate.  These things help them to rediscover their purpose of life.
Yuima-ru is also encouraging elderly people to interact with young ones. "Yuima-ru forest Tamadaira," which is an affiliate of Yuima-ru Hijirigaoka, has two apartment complexes on the same premises:  apartments for the elderly and apartments for the young. Elderly people and college students live close to each other.
This project is regarded as epoch-making because they provide activities and events that promote friendships between the two groups.
On the other hand, Watanabe of Keio University pointed out that the new type of senior housing  is faced with some challenges. The problem is that the organizations that administrator such senior apartments are unable to accept the elderly who have low income because of their limited funding. The professor argues that the government should provide with financial support to senior housing. He insists that the Japanese government should emulate those of Europe and America who subsidize organizations that support the elderly.
In the future, more people will want to live in a senior apartment seeking the bond.  "It will become important that not only senior housing facilities but also active no-profit organizations act as the coordinator in the local community," Watanabe said.
The key to realizing "Yu-en (connected)-Society" includes society's efforts to provide various ties as well as people's freedom to choose.
Written by  Akiyo Yokoyama / Hitotaka Tomatsu / Marina Seto / Mai Shimazu / Keisuke Aoki
Edited by  Teppei Yokota