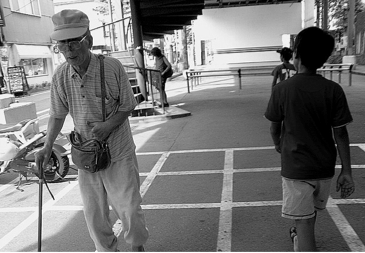 An aging society is one of the most serious problems Japan faces today.  According to the data in the "Aging Society White Paper" (2011), the population of elderly people in Japan, as of October 1, 2010, reached a record 29.5 million among the entire population of 128 million.  The proportion of elderly citizens aged 65 or over is 23.1 percent of the entire population.  Japan has plunged into a seriously aging society.
Moreover, Japan is aging at a never before seen speed. We can see how fast the society is aging by looking at how long it took for the number of citizens over 65 to go from 7 percent to 14 percent. For example, in Germany, where it was relatively fast, it took 40 years, while in Japan it only took 24 years from 1970 to 1994. It is estimated that in 2020 it will exceed 30 percent.  Although the world population is growing, the entire population of Japan continues to shrink. As the number of elderly citizens increases, the aging rate rises.  For this reason, the number of productive individuals per one elderly person which was 11.2 in 1960, turned into 2.8 in 2010.  This situation will keep on getting worse as it will be 1.3 in 2055.
There are two serious problems caused by aging.  One is the lack of labor. The other is the stagnation of consumption and Japan's economy triggered by it.  According to an economist, Japan's labor force is predicted to fall to 18 percent by 2030 and will decrease by half to 9 percent by 2060. Elderly people have savings of retirement money or their pensions compared to other generations but the situation now is that they hardly use any for consumption.  The improvement of living conditions and the progress of medical science has extended the average life span of our country for both men and women.  In 2055, it is said it will be 83.67 years for men and 90.34 years for women.
We can take measures to increase the labor force and promote consumption. The lack of labor is considered to be solvable by approaching it from every aspect: young people, women, and immigrants. To increase the number of young people and women in the labor force will at the same time increase consumption. Elderly citizens are an excellent target because it is certain that they will become the biggest market in the future. Let's see how we can approach these two issues: the lack of labor and the stagnation of consumption and economy below.
First of all, we should focus on the younger generations, because they are the future of Japan. The energy and motivation of this group could be an important segment to solve lack of labor force problem.
Japan seems to be a country of full employment if we only look at the numbers. In 2011, the employment rate of university graduates was 61.6 percent. In the same year 2011, according to the data of STAFF Agency INTELLIGENCE, they calculated the ratio of job openings to applications as 1.28, which means Japan is the country of full employment. However, the real situation is different.  The Ministry of Internal Affairs and Communications carried out a labor force survey in 2011, and this showed that the rate of unemployment between the ages of 15 and 24 was 7.9 percent、a 0.3 percent increase compared to the year before.
What could be the reason for this high unemployment rate? One of the biggest reasons is that the young cannot find the job which they really want to do. The education system in Japan does not give great opportunities for students to learn about the many types of jobs available or to have real experiences or involvement with society. For instance, Japanese students are lacking internship opportunities. They cannot get a lot of knowledge about companies in school studies. Consequently, many students start the job-hunting process even though they do not know the companies well. Almost all the young choose a company because of compensation and the hope to get a high standard of living. Thus, job applications only gather in big companies and competition is concentrated in a tiny set of companies. This situation contributes to the high unemployment rate.
The young need more knowledge about jobs, and this will change their motivation and decision-making process when seeking a job. Fortunately, some Japanese companies have started to give opportunities to the young in recent years. A company called UNIQLO has introduced a new system that gives internship opportunities and a possible guarantee to work from freshman year of university. Sony is planning to change the stereotype image of hiring only from the batch of applications from four-year students and has also begun to hire those who have already graduated and have been in the workforce for a few years, broadening the chance of employment for young people. Therefore, the Japanese society is gradually begun to give more opportunities against students. If the young generations are able to understand jobs better, their awareness and motivation toward work will increase, contributing to the labor force.
Now we will focus on women to show how the increase in participation rates of women has positive effects on the labor force. The women's labor force participation rate in Japan is very low compared to other countries. In Organization for Economic Cooperation and Development, Japanese women's labor force participation rates are nearly the lowest, ranking 29th out of 30 countries. In Japan, labor population is decreasing because of the aging society, but it will be stopped by increasing the number of women entering and remaining the workforce. Labor turnover rates of women after childbirth, particularly, are very high in Japan. As the graph suggest, the labor force participation around the child-bearing age decreases. This is called the 'M curve.' Therefore, one of the reasons for the low rate of women's labor force participation is because the work environment makes it impossible for women to work and do childcare at the same time. By providing a suitable environment which makes it easy to work for women, the labor force will increase.
In order to do that, promoting women to return to work is necessary. In this article, we discuss this problem from a legal point of view. We focus on the importance of sharing the care of the child with mother and father, and the reconsideration of the women's way of working to solve the problem of with the environment.
In Japan, it is common for women to take childcare leave, since the rate is roughly at 90%. On the other hand, the rate of men taking childcare leave stays low at 1.5%. However, in the United States, the rate of males taking childcare leave is above 10%, and other major developed countries are also at a higher rate compared to Japan. By guaranteeing a system that prompts men to take childcare leave, couples can share the heavy burden of raising their children. This would release the pressure of mothers to raise their children alone. Considering the fact that men taking childcare leave is common in other major developed countries, the Childcare and Family Care Leave Act was revised in Japan. We would like to introduce the characteristics of this new law through this article, and help it gain recognition to those who need it (reference: Ministry of Health, Labour and Welfare, "Introduction to the revised Child Care and Family Care Leave Law" http://www.mhlw.go.jp/english/policy/affairs/dl/05.pdf, accessed Feb 24th).
The Child Care and Nursing Care Act, revised in 2010, focuses on the following: a) establishing work styles allowing fathers to participate in child care b) changing the work style of parenting workers, and c) ensuring the effectiveness of those measures. "Dad and Mom Maternity Leave" was established to provide a child-caring system for men. Before the Act, parents have only one year of maternity leave and the term was only until the child becomes one year old. However, by the new maternity leave system, when both father and mother take the maternity leave together, they can lengthen the term until their child becomes one year and two months.
It has often been pointed out that fulltime jobs are too tough for women to raise their children from temporal and physical aspects. The new law considered this point, and made the following revisions for parenting workers.
ⅰ)Employers are obliged to take measures to establish a short working-hours system (less than 6 hours a day as a general rule) for workers taking care of children less than three years of age. This system allows parents to stay an employee, and work sustainably. Parental workers can avoid a long break in their career, and improve their abilities in work. This leads to creating more sophisticated workers in the labor market.
ⅱ)A system of exemption from overtime work will be applicable to workers, because if the worker request, they are able to utilize the system. These exemptions are meant to maintain parental worker's physical health and secure sufficient time for raising their children.
ⅲ)Sick/injured child care leave also becomes strengthened. Before the revision, parental workers could take up to five days per year regardless of the number of pre-school-age children. After the revision, those with two or more pre-school-age children will be able to receive up to ten days. Now parents can also take child care leave for the purpose of taking their children to vaccines or medical checkups.
To ensure the effectiveness of these measures, the revised law established a system to publish the names of parties neglecting recommendations and a system to impose non-penal fines on parties having submitted false reports.
What kind of effect on consumption can we expect from increasing the labor power of women? Looking at shopping, which is characteristic of women's activity, we can see that working women have a big effect on consumption. They use twice as much money as full-time housewives to buy clothes, hobbies and recreations. This data suggests that economy is activated by increasing the labor power of women. Consumption in Japan will increase by making products and use advertising strategy targeting at women. Providing the environment which is easy for women to work helps the shortage of labor power and stagnation of consumption which occur because of the aging society.
Now, let's see how foreign workers contribute to aging problems. In 2011, Japan officially accepted no more than 688,000 foreign workers in total so it is not effective to stimulate consumption. However, considering absolute lack of workforce domestically at present, it is inevitable for Japan to accept them much more in order to keep or develop economic and international high competitive power.
At present, Japan accepts only highly skilled workers and persons of Japanese ancestry. Short-term trainees and probationers compensate for the lack of labor for menial jobs commonly referred to as 3D, which means dirty, dangerous and difficult.  These jobs include work at small companies, assistance services such as housekeeping, nursing care, and hard labor in agriculture, forestry or fisheries, all of which are not popular for Japanese workers who demand high wages. This structure is also causing more than 200,000 estimated illegal workers. These foreigners' working conditions are very harsh.
Japan hesitates to accept workers for simple labor from overseas mainly because they can change the social structure and deprive Japanese of chances to get jobs. They may also cause friction with Japanese society and increase unemployment, such as ongoing issues in Germany and France. Moreover, policy change for them costs so much. However, even though those concerns can happen, current Japanese strict restrictions for simple workers are regarded as backward compared to other aging developed countries and rapid developing countries in Asia, which are already introducing policies based on labors from other countries.
For example, Taiwan has received foreign simple labor since 1989. It has made a specific area of workplace for them and accepts about 350,000 workers every year. Five types of simple work and a three years' stay are allowed. Industry regulations define the proportion of Taiwanese to foreigners and accepts foreigners only when Taiwanese applicants are not enough. As in this case, Japan would be able to establish a special zone to allow foreigners definitively to work in a few labor sectors. It would be effective to refer to policies of other Asian countries whose domestic conditions are similar to that of America. This Taiwanese system can avoid issues like the present increase of recent immigrant unemployment and conflicts with residents in Europe. Moreover, it would be necessary to guarantee a minimum wage and satisfactory work condition for foreign workers. Considering these ideas, Japan should look over present policies for foreign workers and reconstruct acceptance system gradually.
Besides, foreign workers can cause additional positive effects. Singapore has succeeded in social progress for women by introducing foreign workers into housekeeping. By introducing them into services like this, a new workforce would be born in Japan. Moreover in the long run, when many foreigners settle in Japan permanently, even though new problems such as language and cultural gap might occur, they would contribute to consumption in Japan if their income is stable.
Lastly, we will consider the elderly people. As for them, we will search for ways to provoke a lot more consumption, since it is difficult to solve the labor absence by raising the age limit; raising the limit will prevent youth employment.
As noted above, currently, the number of the elderly people is 23.1 percent of the Japanese population.  We have to pay attention not only to their large numbers but also to the large amount of their savings. Actually, in 2011, the average amount of savings of people over 60 was about 23 million yen.  On the other hand, that of people under 60 was about 15 million yen.  In addition to this, 16.8 percent of households whose heads are over 65 years of age have more than 40 million yen as saving.  This proportion is nearly 1.7 times larger than the average of all households (Ministry of Internal Affairs and Communications, 2011).  These data describe that the elderly people have enough money to increase the amount of consumption.
Moreover, since about 10 million baby boomers have just began to reach retirement age, the number of elderly people increases more and more.  We can expect further increasing of their consumption considering as the number of eldery citizens in society rapidly increases.  Therefore, we have to stimulate the senior market by offering products and services which conform to the needs of the elderly.
Then, what do they need? What do they want? We took a survey in order to investigate what elderly people want to spend money on.  This survey showed that the percentage of the elderly who are interested in group activities, such as group tours, sports and lessons reaches more than 60%.  It can be said that the elderly tend to want what contains interactions with others.  In addition, they tend to give importance to whether there are people of their age or not.  For instance, do you know why the district of Sugamo in northern Tokyo has many elderly citizens?? There is a survey which shows that it is because there are a lot of residents of the same age. They feel safe with other elders around.  To conclude, one key point for the senior market is that they can safely interact with people of the same generation.
Furthermore, the changes of taste of the elderly would have to be taken into consideration.  The generations born after WW2 have more freedom to choose in their lives, and have chances to be in touch with western cultures.  As the head of these generations, the baby boomers become seniors, the taste of the elderly will diversify. We expect elderly people's consumption in more various markets than before. In this context, it is important to provide occasions where the elderly can gather in each of these various markets. Therefore, we suggest social media as one of the measures to achieve this aim.  The spread of social media for elderly will affect positively for both elderly and companies.
In an NTT survey, 94.8 percent of elderly use a computer every day.  However, this high proportion does not lead directly to high demand of using social media.  The elderly hesitate to use these services because most of their friends are not using them. Social media gives elderly people opportunities to communicate. It makes it easy to contact their friends even if health is weak or it is difficult to be mobile. Making communities, they can also make interactions with people who have same hobbies.  Social media might prevent the lonely death of an elderly person, a common issue these days.
SNS for elderly people will bring many profits to companies, too.  First of all, it is possible to analyze the communities of social media, and grasp the latest various needs of the elderly.  Social media can be a good tool for companies to spread information effectively at a low price.  In addition, it is a very fascinating way to advertise since word of mouth is very powerful. As we get interested in products or services that friends introduce to us on Twitter or Facebook, becoming hot topic among social media users is greatly effective advertisement.  Online shopping is suitable for physically weak elderly people.  Therefore, collaboration between social media and online shopping can also stimulate elderly people's consumption.  Social media must be a good stimulus to the senior market.
So that more elderly people can use social media safely, social media that is exclusively for the elderly should be promoted more widely.  Actually, there are some social media for the elderly in Japan.  However, even the largest one, "Senioucom.jp" has only 300,000 members.  To make these websites known better and increase their users, improvements such as rebranding sites with catchier names, making the contents more senior-friendly and increasing advertisements are needed.
We have seen the problems aging society triggers and how we can overcome them. Developed countries are now facing the same challenges as Japan with their societies also aging: we hope to set standards that those countries can follow.
Written by
Jun Sugimoto/Marina Seto/Ryohei iseki/Shota Saito/Rena Suzuki/Misa Azuma/Eiji Kobayashi/Shota Nishioka/Rina Suematsu/Saki Maruyama/Shun Oyobiki