Jiyugaoka is one of the stylish cities in Tokyo. A café 'Kosoan', locates in the quiet housing area consisting of western buildings, about 5 minutes on foot from Jiyugaoka Station. It is especially attention grabbing because of the very impressive pine trees and ume, Japanese apricot blossoms, in the garden.
The house of Kosoan is originally owned by the master Nakayama Setsuko. Her mother made Japanese style figures and displayed them since about 30 years ago. In 1999, the master opened the café in combination with her mother's figures. She says "traditional cafés like this may be rare and interesting for you. That is because Jiyugaoka is different from so-called traditional area like Asakusa, and there are a lot of modern buildings." The café is separated into two buildings; guests can see figures on display in the main house and eat sweets at the other house whilst enjoying the beautiful garden. Japanese traditional sweets such as matcha and ammitsu,a dessert made of jelly cube and bean jam, or seasonal menus such as shaved ice and amazake, a sweet drink made from fermented rice, are popular.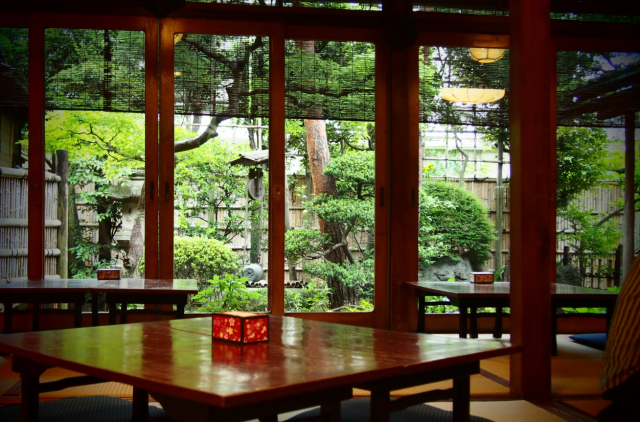 Recently, old Japanese style cafes have been booming. An 'old Japanese style house' is defined to be a 50-year-old house. We had a chance to interview Kosoan, which is much more than 50 years old, and gained some insight on this café or so-called old Japanese style cafés.
Mrs. Nakayama said that, at first, surprisingly, most guests were in their 30s and 40s.
Busy workers who come from further regions might feel longing for their hometown. The café played a role similar to that of a second home for the customers. In contrast, nowadays, the number of guests who are in their 20s, come from and have grown up in urban area, or are foreigners, is increasing because of reviews on Instagram and Twitter. It is said that this café plays an important role of illustrating the "Japanese Hometown" to those who had not experienced the countryside in Japan.
Furthermore, we engaged in a very impressive talk about the management of this café. She said that she trusts and count on an old carpenter and an old gardener in all the management parts, namely about gardening of the old house. It is recognized that people used to form closer connections with others in the past, and the relationships formed were one of trust.
On further reflection, with SNS, we can connect with each other around the clock, while the number of times of contacting neighbors is decreasing. What is worse, the connection through the internet is fragile. We have become irresponsible on it. This is not enough to be faithful. In this era, the connection with people has faded. Through this interview, there was no choice but to ponder that today it was important for us to be polite to others .
Mrs. Nakayama also said, "I do not know how many years we can run, but we will do our best for guests to make them have good impressions about us. If we can do it, the guests may come many times or bring their friends or family. No matter how old our staff becomes, this spirit will never change. I will give our guests it ." In Kosoan, there is a space for relaxation. It is preserved by a bond between us in history which is getting vanished in today's people's mind, and reminds us of our hometown.
Written by Ayaka Sato, Yurina Shida, Kensuke Sakata, Shintaro Haneda, Takayoshi Watanabe
Editted by Maggie Lai
---