One chilly day in February, five girls were playing badminton at Hiyoshi Memorial Hall. The sound of hitting shuttlecocks was echoing as far as the second floor. After finishing three hours of practice, each player shook hands tightly with their coach.
These girls are members of Keio University Athletic Association Badminton girls' team, which now only has four active players. Some players are from strong high school teams, and others from prestigious high schools. All of them are committed to badminton regardless of their previous backgrounds. The team which has a long history since 1942, was not a strong one, but in the last several years, they have left remarkable achievements both in individual and team tournaments. They continue to make a rapid progress.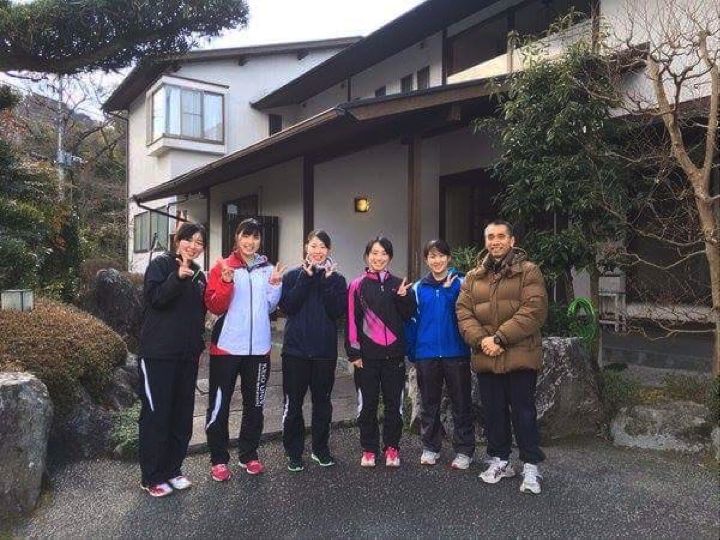 One of the attractive features of badminton is the high speed of shuttlecocks. However, a victory depends not only on the players' physical and mental abilities, but also on well-constructed tactics and strategies. Therefore, it is important for each player to think deeply and thoroughly about one's own performance. Keio girls' team has developed their own style, and they call it "deliberate badminton."
The "deliberate badminton" also includes making efforts in team management. Unlike other universities and many teams at Keio, they don't have any team rules, managers or advisers. Because their performance in badminton varies, it is essential for each of the four players to act responsibly for the sake of the entire team. Since they are trained to be a responsible member from the beginning of the freshman year, they eventually become a mature young adult who can make a sound judgment. Their friends and other athletes admire their management skills..
There is a major reason why the team has fewer players than other universities. When it comes to recruiting athletes, many other schools directly headhunt good players, because their priority is strong performance. Athletes are exempt from taking entrance exams. On the other hand, Keio University Athletics Association emphasizes the importance of academic success. The Athletes have to pass the entrance exam first. Yu Kawahara, 20, a member of Keio badminton team who is in charge of inviting new members, visits numerous high school badminton tournaments throughout Japan. She starts by asking the advisors of the team to introduce good players who has a strong academic performance, then she carefully advises the students to take the entrance exam and join Keio badminton team. Because their recruiting strategies doesn't solely focus on the performance in badminton, it is not always effective in making the team strong. On the other hand, there are advantages; their door is open to any students.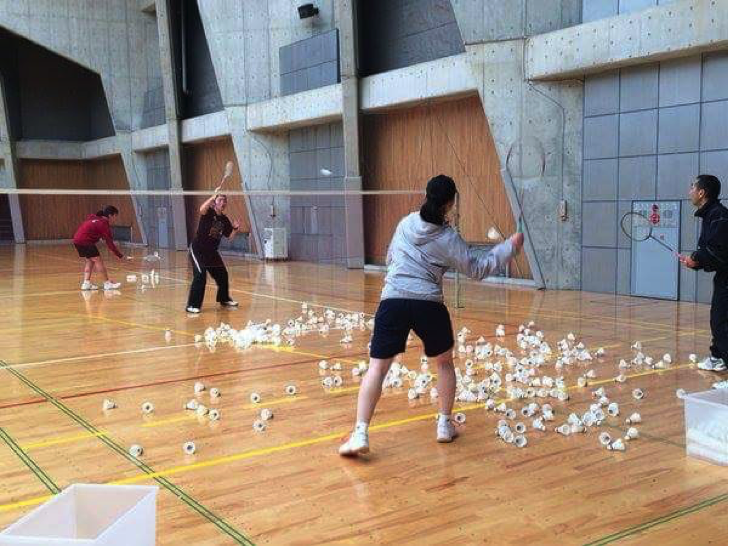 "Our university helps us grow. We are winning the games, including those of us who couldn't play well in their high school tournaments." She has a firm confidence both in the quality and quantity of practice as well as the high motivation of her team.
"I want to do as much as I can for the team before I leave." said Ayumi Komatsu, 21, captain of the team. So far, she has made some spectacular results as a player and improved the team management. For instance, she improved their Web site, started a players' blog, and hosted badminton events for high school students. She and her teammates are applying the knowledge and skills they have acquired in classroom have been incorporated into these activities. And now in order to raise recognition of the team among people outside the university, they are creating a team logo, and planning to make some stickers and goods. They believe that these efforts will help attract new players in the future.
"I have too many things to handle for the team," said Ayumi Komatsu. She says she is overwhelmed but she is committed to making the team stronger.
Written by Fuyuko Onishi,
Edited by Moeko Aramaki
Postscript
I hope this article will help people feel closer to the young athletes of Keio University.
Fuyuko Onishi