Eleven Stanford students has come to Japan for an exchange program called SKIP, Silicon-valley Keio International Program. It was first founded in 1959, and is organized by the Institute of International Relations (IIR) between Stanford University and Keio University. After a suspension since the 1970s, it has revived in 2013 due to a request by the Stanford side intending for an intellectual communication between participants from both sides, enabling the students to get a chance to assimilate the greatest impact possible and establish eternal bonds of friendship.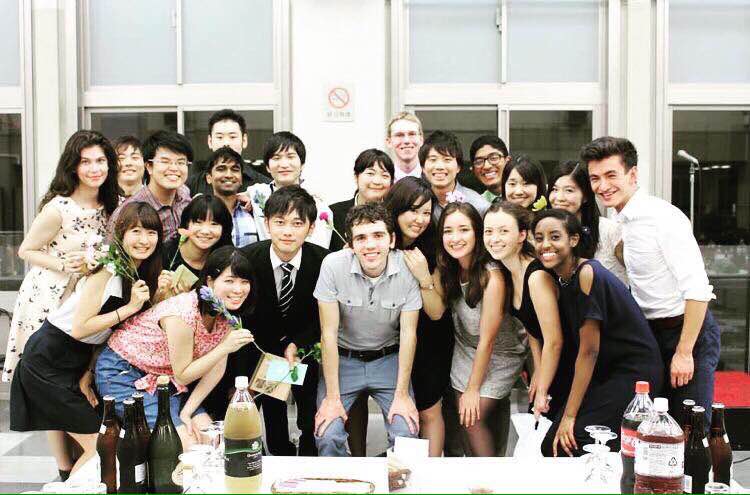 IIR has provided lectures by professors from Keio University, visits to a couple of companies, a trip to Iwaki city in the Tohoku area, and many more to capture Japan from various sceneries. Having marked its third program, the participants presented their report on the intellectual study through the two weeks they have had.
As the strength of Japan, the students saw the good quality and aesthetics from traditional goods, the conscientiousness and respect through the idea of reverence toward nature, kami, and everything around, the industrious and long-term thinking in Japanese production, and the willingness of people to listen to others.
At the same time, they found out that the current situation needs some things done. In the visit to Tohoku area, the students heard from the locals that not enough residents are willing to return to the area after the earthquake and the tsunamis. As a solution, they came up with an idea of pursuing form and function to create more than just a place to live for those who were displaced by the disaster.
The representative member of IIR has heard many voices from the past participants that their experience through SKIP has really changed their lives. "Hoping for this years' participants to feel the same way, we are working hard to organize this program," he said, showing the willingness to welcome more students.
Alyeska, one of the Stanford participants, expressed her passion toward Japanese culture. "I have fell in love with the Japanese culture when I was little. Because of the 3.11 disaster, I once gave up my dream of coming to Japan." Alyeska revealed of her yet continuing dream to live in Japan someday. "I'm definitely coming back,"
Written by Moeko Aramaki
Postscript
I thought that these programs are valuable experience not only for the Stanford students but also for the organizers from Keio as becoming close friends with Stanford students is not an everyday life opportunity. At the final presentation, I was impressed to hear that they had learned so many things in such a short period of time. I hope that this program will continue to make more interactions between US and Japan.
Moeko Aramaki