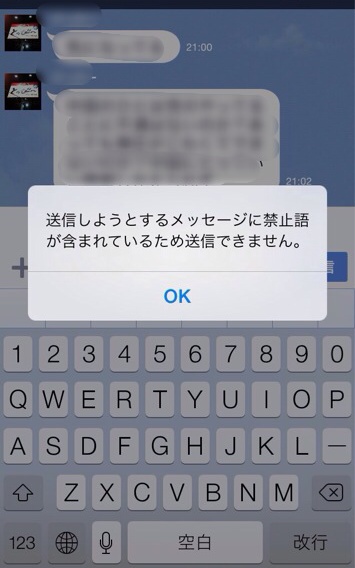 "Your message includes prohibited words so it can not be sent."
You get this message when you try to text to someone living in China through LINE, a free call and messaging app. LINE is a popular communication tool in Japan and it has 400 million registered users all over the world. The warning message suddenly shows up and blocks communication. Something like this occurs in China. "Watching YouTube or Twitter is sometimes not allowed in China."said a Japanese student who is now studying in China
Weibo, the Chinese version of Twitter, is commonly used in China. "The Chinese government wants its people to use Weibo, not Twitter that is used by many people in the world. Because the government aims at isolating its people from the world and effectively strengthening the monitoring operations."says the professor of the Keio University law department. Actually, Chinese high school student who tweeted on Weibo "we should demonstrate!!"was taken by and beaten by the police. The restriction of freedom of speech expression in China can be classified into three types according to Mr.Yasuda. First is censorship, voices are deleted like the operations. The example shows in this article. Second is self-imposed restriction, the government indirectly pressures people to restrain from saying something that about the government. Third is making people say what the government wants them to say.
The second type and third type are, in other words, the indirect form of control of speech, and anti-Japanese education is considered as such example. This national policy, includes anti-Japanese textbooks, visiting to Nanjing Massacre Memorial Hall and making Chinese people watch TV dramas on China-Japan war, which depicts Japanese army as the villan. At first sight, these don't seem like oppression of freedom of speech. However, it creates an atmosphere in which Chinese people hesitate to comment in favor of Japan and force them to say what the Chinese government wants them to say.
While information technology to monitor the Internet progresses, its target such as news papers and other publications continue to grow. This makes censorship difficult. "Creating an atmosphere that discourages people to speak against their government compensates the lack of the control."It doesn't sound familiar to people in Japan. However, we have experienced being in the situation where they didn't say what they had wanted to say because they felt the need to be sensitive. So, it is not foreign to us.
Written by Hidenao Dohino, Yuki Komatsu
Edited by Hazuki Nakamori
Postscript
I faced that control of freedom of speech ranges between individuals and I realized that foreign human right differed from Japanese one. It is necessary that Human right is universal but actually it is not.
In the process of creating this article, I discovered that Japanese practice that we have to adapt to circumstances is also control of freedom of speech. Because the national character like this was established in Japan, perhaps it is the most terrible control. (Hidenao Dohino)