It was just an ordinary house in Nakano, Tokyo. A Japanese famous YouTuber "MEGWIN" was working in the living room of his house surrounded by a lot of unusual props. MEGWIN is the CEO of MEGWIN TV Co., Ltd. He produces comedy videos such as "Fixing a Crocodile's Decay" or "Ordering Pizza without a Word" often get hundreds and thousands of views. He shoots videos at home with his stuffs called "MEGWIN Gundan".
YouTube, which enable anyone to upload videos, has been expanding its business since its foundation of 2005. The term YouTuber means a person who posts his or her videos on YouTube and some of them live on the advertisement fees they earn by getting many views. Since Internet can reach people around the world, there are supposed to be countless opportunities and unlimited expressions. However, MEGWIN said that Japanese contents rarely go viral (get popular) on YouTube because few people can understand Japanese.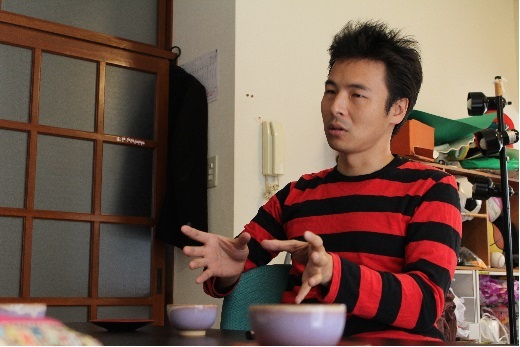 In 2012, MEGWIN took part in an event in London where many YouTubers gathered from all over the world.
"I couldn't get to know other YouTubers because I couldn't speak English," he said recalling the event. "You can't make progress if you can't speak English."
MEGWIN went to the United States to learn English and he also collaborated with American YouTubers.
"There is a difference in popularity of YouTube between Japan and the United States," he said.
American YouTubers are usually teamed up and many people are involved in making videos. They produce a wide variety of videos working together with staff skilled in movie editing. On the other hand, most Japanese famous YouTubers work alone. They are likely to produce videos that do not require high level movie editing such as live coverage of video games or product introduction.
However, videos that introduce Japanese unique culture or trend are popular among people outside Japan. For example, many people watch Japanese traditional cooking with Japanese subtitles and post comments.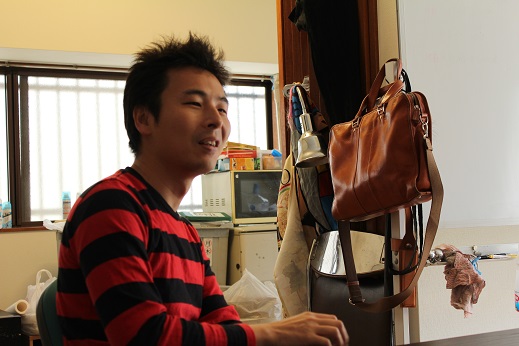 Language becomes the key when it comes to appeal Japanese culture as well as to understand world culture. The ability to understand foreign languages expands one's possibilities. A YouTuber found the same is true in the world of YouTube; It is important to adapt and make effort to accommodate in the global society.

Written by Nozomi Watauma, Rinpei Aoki, Mizuki Hosoe
Edited by Mizuki Hosoe
postscript
This was my first interviewing, meeting and writing as being a member of MitaCampus. Even though, it was definitely a fun and exciting experience, to be honest, I was a bit shocked by facing my poor writing skills but revising process with other members impressed me from many perspectives. Big thanks to those who helped me during those processes and also to MEGWIN who kindly accepted and supported me by answering questions during the interview. I will make the best of this experience to improve my skills. Again, Thank you so much!
Nozomi Watanuma
Through the interview with MEGWIN I have learned how important it is to work with enthusiasm. I felt he was always seeking for something new and trying to be innovative. It was impressive that in interview he said he always had a vision of future. This valuable interview taught me a lot of things.
Rinpei Aoki
Mr.MEGWIN's attitude of "always seeking chance" was very stimulating and I found out that YouTuber is an engaging occupation. The exciting interview taught me the importance of language, especially English, once again. It was first time for me to write an article as both a writer and an editor. Although I was an inefficient writer, I am really glad that we finally finished writing the article. I cannot thank enough to my diligent freshman members who wrote with me. Thank you so much for reading.
Mizuki Hosoe