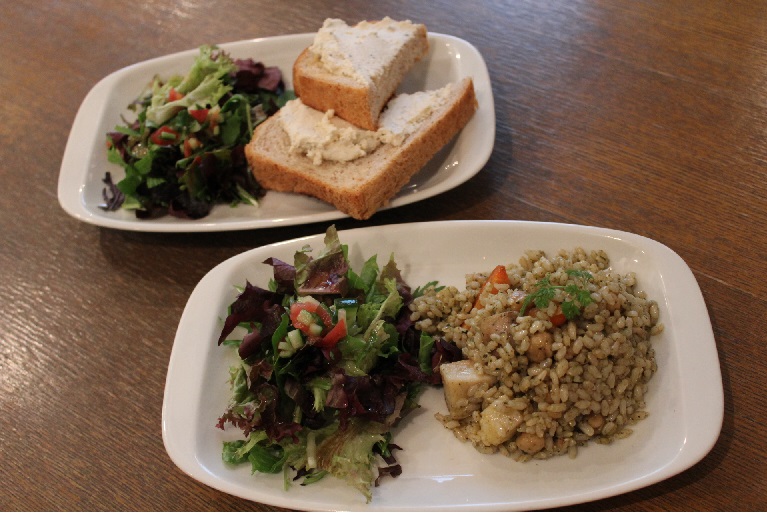 The Japanese are "omnivorous." We eat many kinds of food. Children are taught "to eat a well-balanced" in elementary school.
We tend to forget that people outside Japan have their own eating habits based on their moral or religious values. There is an anecdote that shows how indifferent we can be. A Japanese businessman made reservations at a fine yakiniku (Japanese barbecue) restaurant in order to entertain international clients who are important business partners of his company. He wanted them to enjoy delicious meat, but it turned out to be a mistake. They were vegetarians!! Of course, they couldn't eat any meat.
Now that, the world is getting smaller. It is very important that we understand their food culture and a way of thinking about food.
"PURE CAFE" is one of very few vegan restaurants in Japan. Ms. Reiko Kiyono opened the cafe 13 years ago to offer foods that are healthy and safe. However, she decided not to emphasize the fact that it's a vegetarian restaurant because the idea of being vegetarian or vegan is not widely accepted. People associated the term vegetarian to having strong food preferences. In vegan cooking, no animal products including eggs, daily products, or honey can be used. That is what makes vegan cooking challenging. For example, butter, eggs, or whipping cream cannot be used in cakes. Instead, starch and soybeans are used. However, dealing with the restrictions in ingredients makes it enjoyable.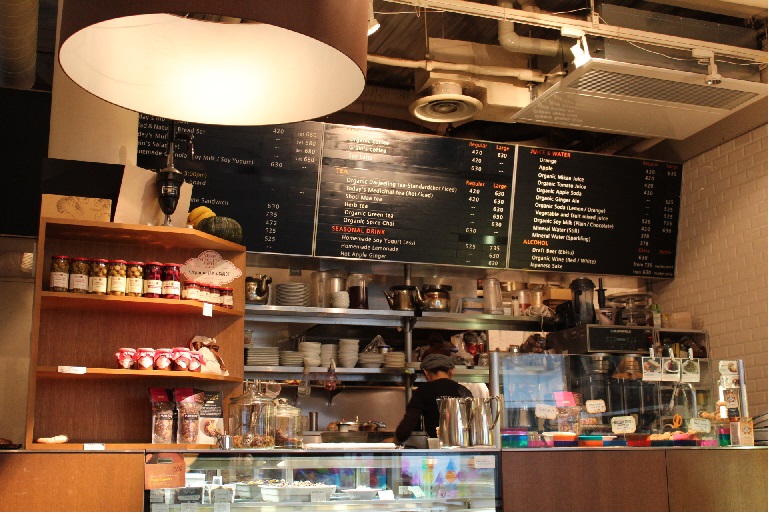 Vegan and vegetarian were not popular in Japan, and "PURE CAFE" also did not appeal the vegan cooking. Nowadays more people are interested in vegetarian cooking as they become more health conscious. People even travel long distance to "PURE CAFE" to enjoy vegan food.
"We want our customers to enjoy vegan cooking as a choice of food." Ms. Namiko Ito, a press of "PURE CAFE" said. Their customers are not limited to vegetarians.  For example, people who have food allergy can enjoy their food and feel safe.
Years ago, Ms. Ito used to work at a hotel. While there, she often felt bad about the fact that many people leave a dish unfinished and hotel throws the tongs of leftovers every night. Then, a friend introduced her to "PURE CAFE" and Ms. Ito decided to work there.
Today, "PURE CAFE" wants to appeal the vegan cooking and the good quality of vegetables that farmhouses grow carefully. Trying Vegan cooking, we were reminded to think about our food, which we eat and take for granted.
Written by Asako Hamaguchi, Yukihiro Kuribayashi
                                          Edited by Hana Saied Isaka
Postscript
After doing our interview, we determined to eat only vegan food for three days.  However it was difficult for us to not eat meat and fish of course including eggs and dairy products.  In fact, I mistakenly drank cafe latte on my second day.  Vegans cannot drink milk!!!  Some people in Japan become vegetarian to be healthy or to lose weight, but there are many vegetarian in the world for their moral and religious reasons.  By learning about their food culture, I came to think about my own as well.
Asako Hamaguchi
The idea ''vegetarian'' became familiar to me through writing this article. I feel that it is interesting to focus on things that are thought as a minor thing such as vegetarian. Above all, I really enjoyed delicious dishes at PURE CAFE!
Yukihiro Kuribayashi