Today, kendama, a Japanese traditional wooden toy for children, is changing. It consists of three parts; a ball, a cross shaped body, and a string that connects the ball and body. We grip the body and pull up the ball using the tension of the string, and put the ball on the top or the side of the body. Now, however, the number of adult kendama lovers is rapidly increasing, and acrobatic styles have become more popular. Young people dressed in street fashion are leading the kendama boom. They practice acrobatic styles in Shibuya at night where many young people gather.
KENDAMA, which has been developed as a new style of street sport field in America and Denmark, came to Japan in 2012. Like other street sports, KENDAMA players demonstrate a succession of tricks. Skate boarders and BMX(Bicycle Motocross)riders jumped into kendama. In the event for kendama held in Omotesando, Tokyo, in August, about 30 people participated and some played it for the first time. One of them said enthusiastically, "I'll practice it hard at home, because I want to be a better kendama player." Nowadays, some street clothing shops sell stylish imported kendamas. Led by street cultures, more people encounter kendama, and some really put heart and soul into it.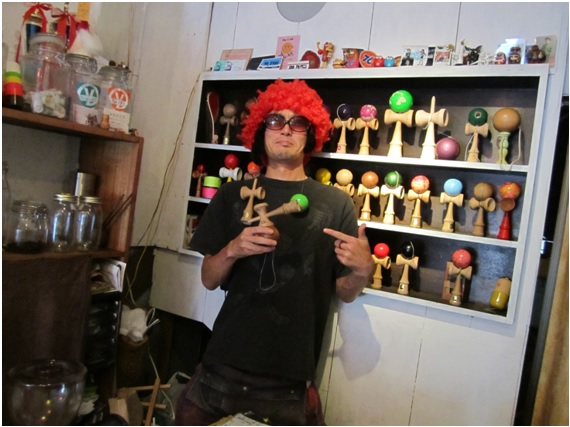 Makoto Morishita (morimako), a kendama performer, has been watching for this boom for a long time. He also runs KENDAMA ROCK CAFÉ located in Onomichi, Hiroshima. He said "I want to promote kendama. This is my calling." Morimako has made efforts to introduce a new style of kendama. Unlike the Japanese traditional style, which is all about mastering difficult skills, his style is to show a simple skill in a showy manner with music. That is because he believes kendama is cool, fun and something that you can start easily. At KENDAMA ROCK CAFÉ, he brings coffee along with kendama and offers lesson. Some of his customers who learned kendama from morimako become to teach it now. KENDAMA ROCK CAFÉ holds kendama competitions and invites players from abroad.
"Kendama and music have one thing in common," said morimako.
We can enjoy it regardless of age, race or language. "Drop the gun. Take kendama" he wants to spread the message to the world. He hopes that kendama will grow into a major sport, merging with various cultures, such as street and rock and punk. His dream is to see people playing together and beating peacefully rhythm with a warm wooden kendama.
Written by Megumi Sato
Edited by Reita Kobayashi
Postscript
I have been crazy about kendama since I found it at a craft shop while traveling last spring. Then, I couldn't imagine that I would be really into playing it, because I just bought it in casually. However, now I think heartily kendama is very fun and cool. Kendama culture is in a period of transition, so I want to make it more big culture.
Megumi Sato